Heavy rainfall has increased a greater flooding risk due to recent climate change. The 23 wards of Tokyo, particularly those in the eastern area with many rivers, are at risk of flooding during typhoons or severe storms. Even areas far from the rivers, such as the waterfront along Tokyo Bay, are susceptible to flooding caused by storm surges, where it is necessary to be alert for the flood damage. In addition, the waterfront area must also exercise caution against potential tsunamis that can occur following an earthquake. Therefore, it is essential to be prepared for flooding and to know how to evacuate quickly.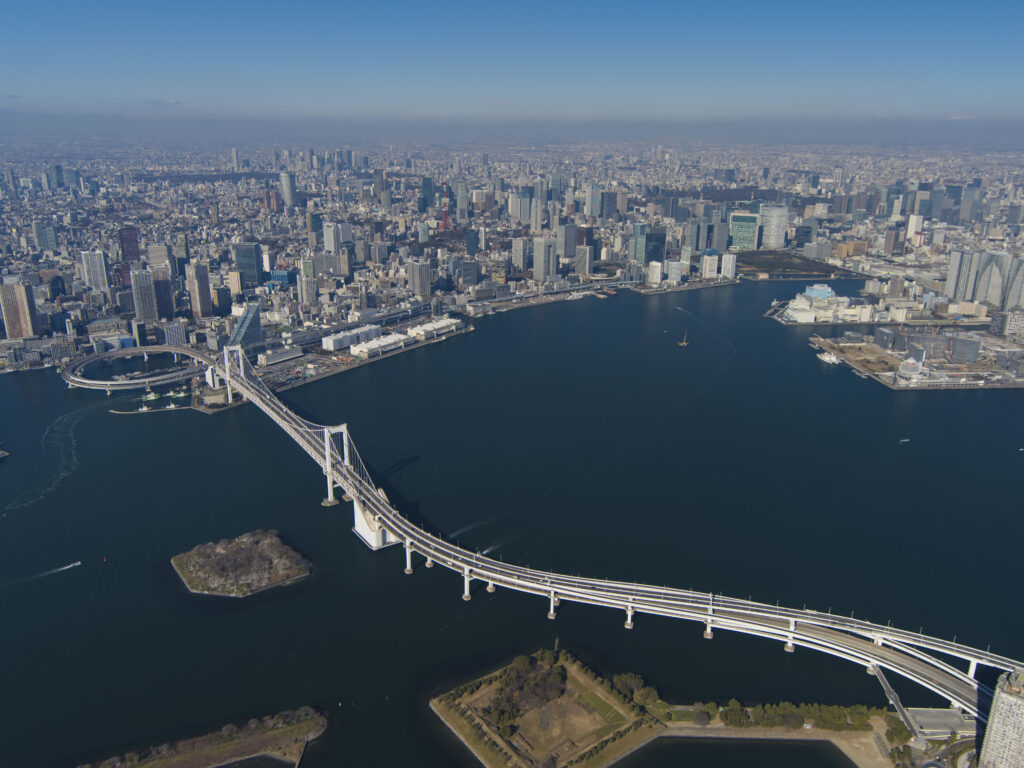 Rainbow Bridge at Tokyo Bay
©Tokyo Metropolitan Government Bureau of Port and Harbor
https://www.kouwan.metro.tokyo.lg.jp/
 Is Tokyo, a city with a high risk of flooding?
Depending on the district of the city, the answer is yes, unfortunately. Looking at Tokyo's topography and its history, it tells high risk of flooding in some places. Since 1603, when the Edo Shogunate was established, Tokyo began to be developed as a metropolis centered on the current Imperial Palace. At the beginning of that time, most of today's 23-ward area was a wetland. The sea intruded into the land much more than it does today, with a cove near the Imperial Palace, and Asakusa used to be a port town with a seashore on the eastern side.
During the Edo period (1603-1867), there was significant progress in land reclamation from the sea and wetlands to expand residential areas. However, due to the original low-lying nature of the land, flood-prone areas persisted. Therefore, large-scale flood control works have been carried out over hundreds of years, and some examples of these efforts include the creation of man-made rivers such as the Arakawa, Nakagawa, and Edogawa rivers which run through the eastern side of Tokyo's 23 ward area. More recently, the construction of enormous drainage channels such as the "Metropolitan Area Outer Underground Discharge Channel" and the "Kanda River and Ring Road No.7 Underground Reservoir" have been completed.
Despite advancements in flood control in Tokyo, there is still concern about flood damage in low-lying areas. If a flood control channel overflows, damage in these areas becomes unavoidable. In addition, there is increasing concern about the frequency of heavy rainfall occurring within a short time, which may lead to inland flooding when rainwater cannot be controlled or contained by sewers and drainage channels.
Storm surges can be dangerous in waterfront areas.
Overflowing rivers caused by the typhoons and the heavy rain are the most serious flood damages in Tokyo, but storm surges from windstorms can also cause problems. Remember, the east side of Tokyo's 23 wards is mostly low-lying, it could cause more flood damage by the water blown as the sea level rises, and coastal areas are particularly at risk of flooding due to the inflow of seawater, directly impacted by the rise in sea level. Among the 23 wards of Tokyo, the waterfront area includes six cities (wards); Minato, Shinagawa, Ota, Chuo, Koto, and Edogawa cities.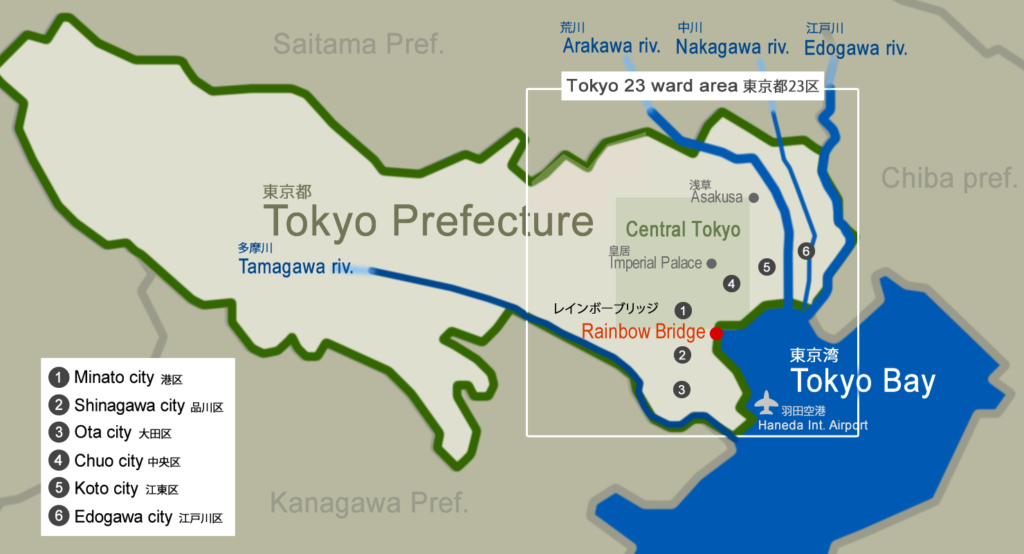 However, these six wards along the coast are not entirely low-lying. Some part of the districts, especially within the western 23 ward area, have many hilly places that are at low risk of flood damage. For example, Minato city has a varied topography that includes hills, and the lowlands are concentrated along the coast. Therefore, the risk of storm surge and evacuation requirements in Minato city differs depending on the location.
Determine the flooding risks from the storm surges
Under the Flood Control Act, the Tokyo Metropolitan Government has published the "Storm Surge Inundation Area Map" which displays the areas that are expected to be inundated in the event of a storm surge in the waterfront area of Tokyo. The map primarily highlights flood risks within Tokyo's 23 wards, with water levels color-coded into five levels ranging from 0.5m to 5m to indicate the level of danger. The map is also divided into blocks with numbered locations so residents can easily find the flood risk of particular places such as their homes, office, etc.
To view the map, find the block of the area you wish to check, then select the corresponding number from the table. If you click on the number, the area map (PDF) will show up.
Storm Surge Inundation Area Map
(By Tokyo Metropolitan Government Bureau of Port and Habor's Website)
https://www.kouwan.metro.tokyo.lg.jp/yakuwari/takashio/shinsuisin_irochigai.html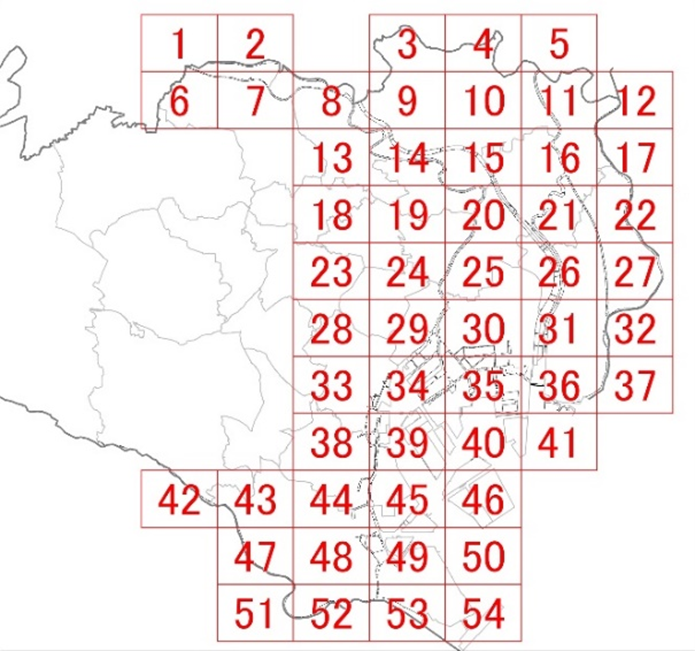 Storm Surge Area Map [Estimated Maximum Scale]
© Tokyo Metropolitan Government Bureau of Port and Habor
https://www.kouwan.metro.tokyo.lg.jp/
(How to use the map)
For example, Rainbow Bridge in Minato city is in the block number 34. If you click on the "34" in the number table, it displays the following area map (PDF).
Storm Surge Area Map [Estimated Maximum Scale]
Block No. 34 in Minato City (Rainbow Bridge section)
https://www.kouwan.metro.tokyo.lg.jp/yakuwari/DepthB_34.pdf
According to the map, the block No.34 of Minato city expects flooding that ranges from 0.5m to 3m. Suppose you live in the block No.34 and your home is on the third floor or more in a high-rise building, staying in a room above the expected water level will be safer rather than attempting to get to an evacuation site under the storm. If your place expects the water at 0.5m level, you can prepare a waterproof sheet to prevent water from entering your house.
How to evacuate in the event of a storm surge
In areas that are at high risk of flooding, evacuation is necessary in the event of a typhoon or heavy rain. The necessary actions required for evacuation can be summarized into two categories: "Preparations" and "Actions to Take When a Disaster Occurs".
Preparations
1) Collect information
Be sure to know of flood risk at your place in advance. Use the storm surge inundation area map (above described) to understand the risk of inundation for your block. You may also check the expected inundation levels in your neighborhood. Public facilities such as libraries will have an indication board.
2) Decide where to evacuate in advance
To ensure timely evacuation, it is important to decide on an evacuation site in advance. Each city (ward) in Tokyo provides disaster-related information on their websites, including details on disaster prevention, controls, and available evacuation sites in the area which can help you find an evacuation site nearby. However, keep in mind that evacuation sites may become crowded during a disaster. Families with small children may consider alternative options for evacuation, such as a friend's house or a hotel located in a safe area.
List of Tokyo's city offices in charge of disaster prevention
(Source: Tokyo Government Disaster Prevention Information)
https://www.bousai.metro.tokyo.lg.jp/link/1000044/1000253.html
3) Prepare an emergency bag and stockpile of food and water.
During a disaster, it may take some time for basic services like water and electricity to be restored. To determine how much food and water to stockpile, you can use the "Stockpiling Navi (Tokyo Bichiku Navi)" website provided by the Tokyo Metropolitan Government. This website can help you determine the appropriate amount of supplies to have on hand.
Tokyo Stockpiling Navi (Tokyo Bichiku Navi) by Disaster Prevention Division, Bureau of General Affairs, Tokyo Metropolitan Government Management Section
https://www.bichiku.metro.tokyo.lg.jp/en/
Actions to take when flooding is predicted
1) To stay informed about potential disasters in your area, check updates from your local city.
The Japan Meteorological Agency provides disaster prevention information with 5 alert levels, which can help you quickly determine if you need to evacuate or not. Each city issues a warning based on these alert levels, so follow the guidance and take appropriate evacuation actions.
Disaster prevention information is provided by each local city online. Some of the cities offer information via an app notification, which you can check in real-time.


Quoted from Japan Meteorological Agency website
https://www.data.jma.go.jp/multi/warn/index.html?lang=en
*Japanese government (Disaster Management, Cabinet Office) provides detailed information in multilingual languages on the app. To find more information, see this page.
https://www.bousai.go.jp/oukyu/hinanjouhou/r3_hinanjouhou_guideline/evacuation_en.html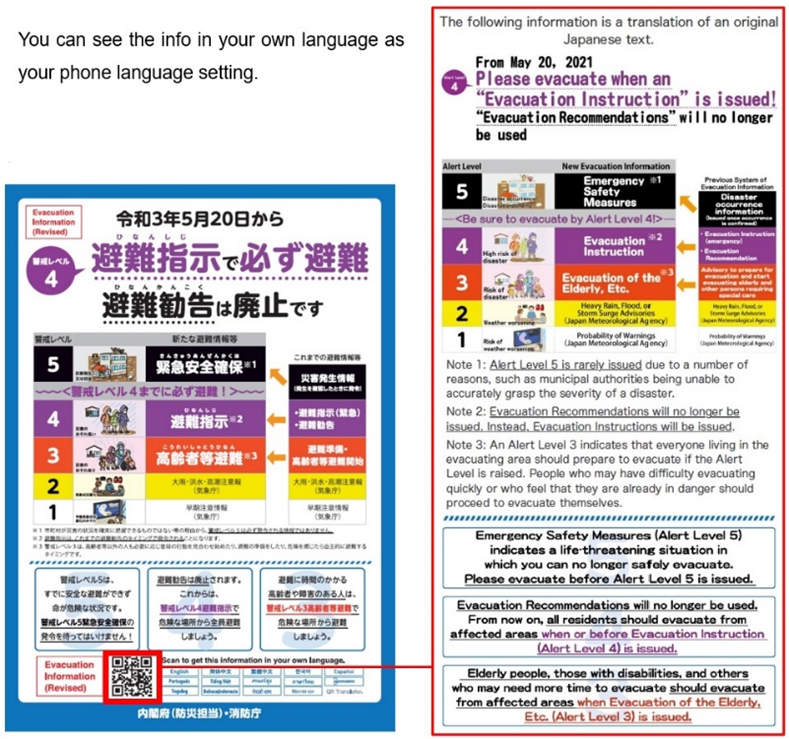 Quoted from the Japanese government (Disaster Management, Cabinet Office) website
2) Evacuate to a safe place
If your city office alerts you by issuing a "Level 4: Evacuation Order" or "Level 3: Evacuation for the Elderly, etc." take an action to evacuate immediately. It will be too late to evacuate after flooding has occurred. Also, in a blackout situation, evacuating at night will involve more danger. The earlier to evacuate the safer.
Concerning safe evacuation, there are precautions such as;
・Do not use an umbrella in a storm
・Check the status of public transportation (will be unavailable due to planned suspension)
・Turn off the circuit breaker of your home before evacuating (to prevent accidents caused by forgetting to turn off the lights)
For more precautions, refer to the information provided by the Tokyo government.
Tokyo Metropolitan Disaster Prevention Homepage
https://www.bousai.metro.tokyo.lg.jp/bousai/
(Extra info)
In the case of staying at home when flooding occurs, avoid using the toilet. Flushing water causes backflow of sewer water when flooding occurs. The toilet cannot be used until the water recedes.
Tsunami risks in Tokyo's coastal area
Tokyo Bay is unlikely to experience large-scale tsunamis due to its location within an inland sea that mitigates the force of intense waves before they hit the shore. In fact, the data in the past shows no tsunami record over 3m higher within the 23-ward area. Currently, the estimated tsunami height announced by the Tokyo Metropolitan Government is about 2 to 2.6 m at maximum. However, even a 2-meter tsunami could cause severe damage and disaster.
Actions to save your life from tsunamis
In the case of a medium-scaled earthquake
With a seismic intensity of Level 2 to 3, the probability of a subsequent tsunami is relatively low, depending on the distance from the epicenter. Nevertheless, it is still important to check the tsunami forecast provided by the Japan Meteorological Agency and make sure there is no risk of a tsunami coming.
Evacuate immediately in the event of a major earthquake
If a severe earthquake occurs, with a seismic intensity of Level 6 or higher, immediately evacuate to higher ground. It is a situation you need to take prompt action without any consideration of whether need evacuation or not. When evacuating, remember to act right away, but calmly. Avoid returning to the original location until you have verified that the tsunami alert has been lifted and the forecast confirms that the risk of a tsunami has subsided.
Japan Meteorological Agency
https://www.data.jma.go.jp/multi/index.html?lang=en
Tsunami warning/advisory
https://www.jma.go.jp/bosai/map.html#5/37.979/135/&elem=warn&contents=tsunami
Tokyo Waterfront City Disaster Preparedness Guide If a disaster occurs
By Tokyo Metropolitan Government Bureau of Port and Harbor
https://www.kouwan.metro.tokyo.lg.jp/en/Tokyo_Waterfront_City_Disaster_Preparedness_Guide202009.pdf