Yokohama, located next to central Tokyo, is the second largest city in Japan. Its city center boasts an array of contemporary architecture and a plethora of exciting tourist destinations. The center of Yokohama is only a 20-30 minute train ride from central Tokyo, with easy access from Haneda Airport, making it a popular destination for tourists and visitors from overseas. With its long history as a trading port, Yokohama has been one of Japan's first places to introduce new cultures and trends. Currently, numerous new tourist destinations are being developed continuously. And here picked out are some of the must-visit attractions that focus on the "new culture" of Yokohama.
Yokohama's top tourist attractions concentrate in Minato Mirai 21
The popular tourist destination in Yokohama City is along the bay area called Minato Mirai 21, which is situated south of Yokohama Station, the city's primary railway station. Minato Mirai 21 is a district with office buildings and high-rise hotels, chic shopping mall complexes, pleasant outdoor green spaces with cafes, exciting amusement parks, and distinctive museums. While guidebooks often refer to "Chinatown" and "Motomachi Shopping Street" as the classical districts representing historic Yokohama, Minato Mirai 21 is a modern district that symbolizes the city's near future.
Getting to Minato Mirai 21 Area
If you plan to go to the Minato Mirai 21 of Yokohama by train, you can step in from JR Sakuragicho Station or Minato Mirai Station. Reaching the seaside area (Shinko District) with tourist attractions takes about a 10 to 15 -minute walk from JR Sakuragicho Station. The street to the waterfront has impressive buildings that will catch your attention.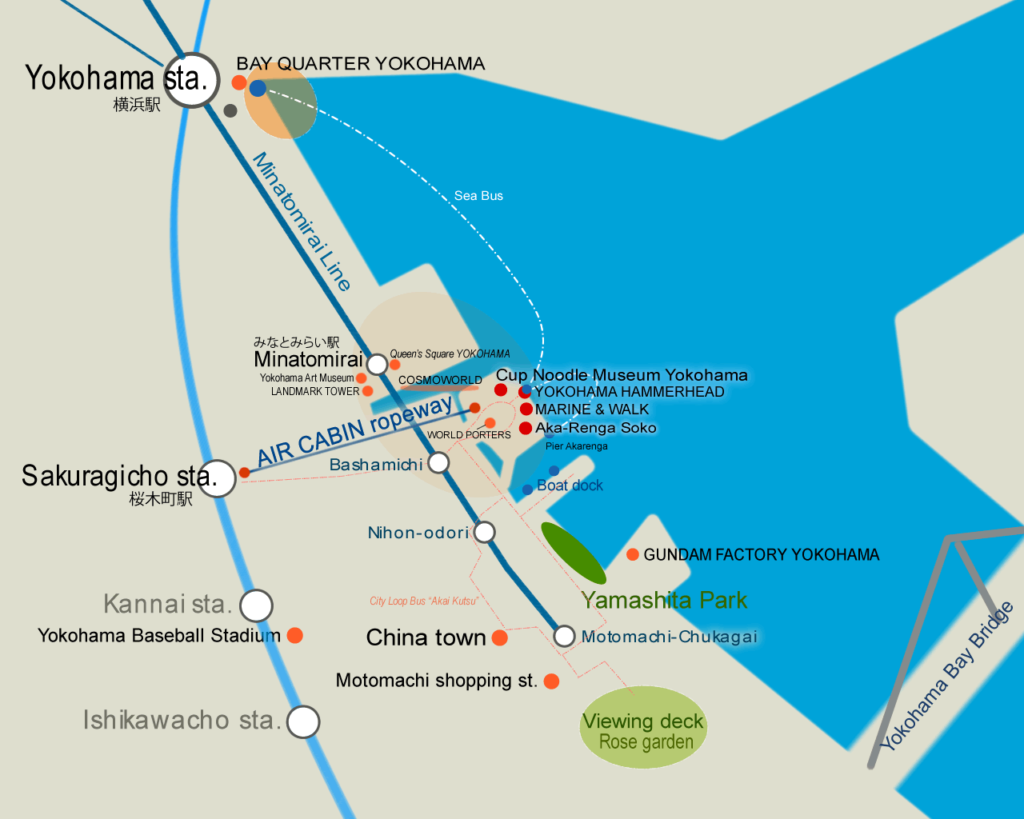 Featured Attractions in Minato Mirai 21 area
YOKOHAMA AIR CABIN
First ever in Japan! The world's latest urban loop ropeway. This new attraction in Yokohama is transportation between JR Sakuragicho Station and Unga Park (Canal Park) in the Minato Mirai 21. It takes you to the tourist destination on the seaside from JR Sakuragicho Station while you enjoy the scenery of Yokohama, which will be like strolling in the sky.
The ticket office is at both ropeway stations. You can buy a ticket from a vending machine or at the window. If you are interested in the Ferris wheel "Cosmo Clock 21", one of the symbols of Yokohama, consider a combination ticket for both rides at a budget price. (The combination tickets are available only at the ticket window of the ropeway station.) Check the official website for detailed information, operating days, and ticket prices.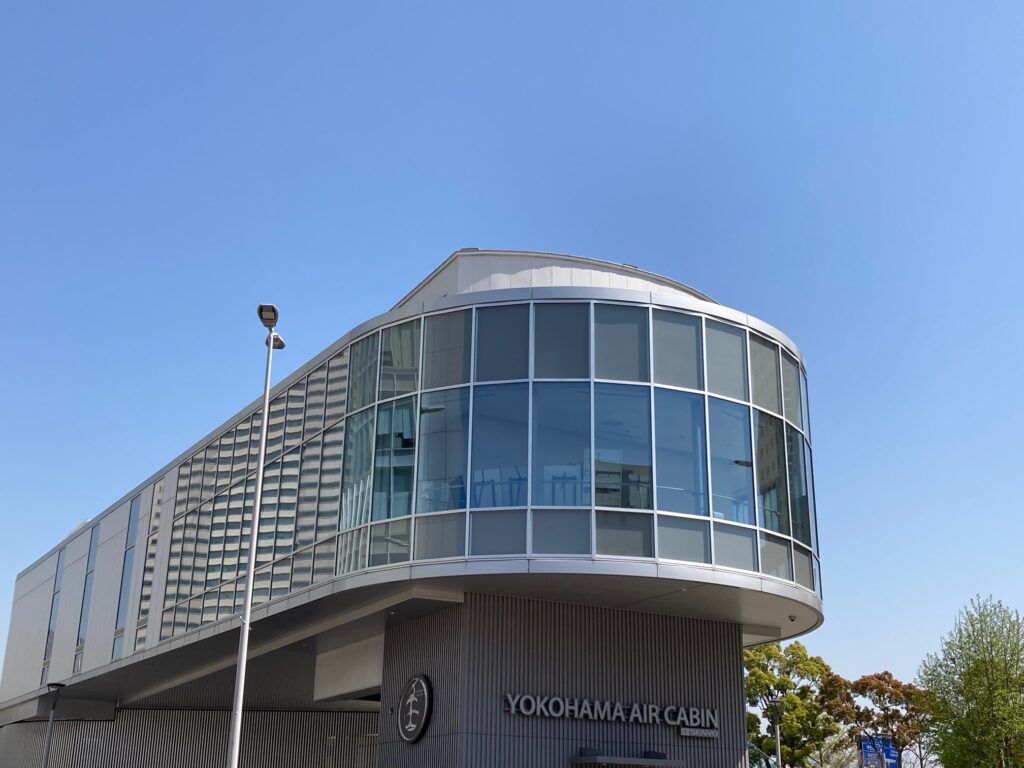 YOKOHAMA AIR CABIN
https://yokohama-air-cabin.jp/en/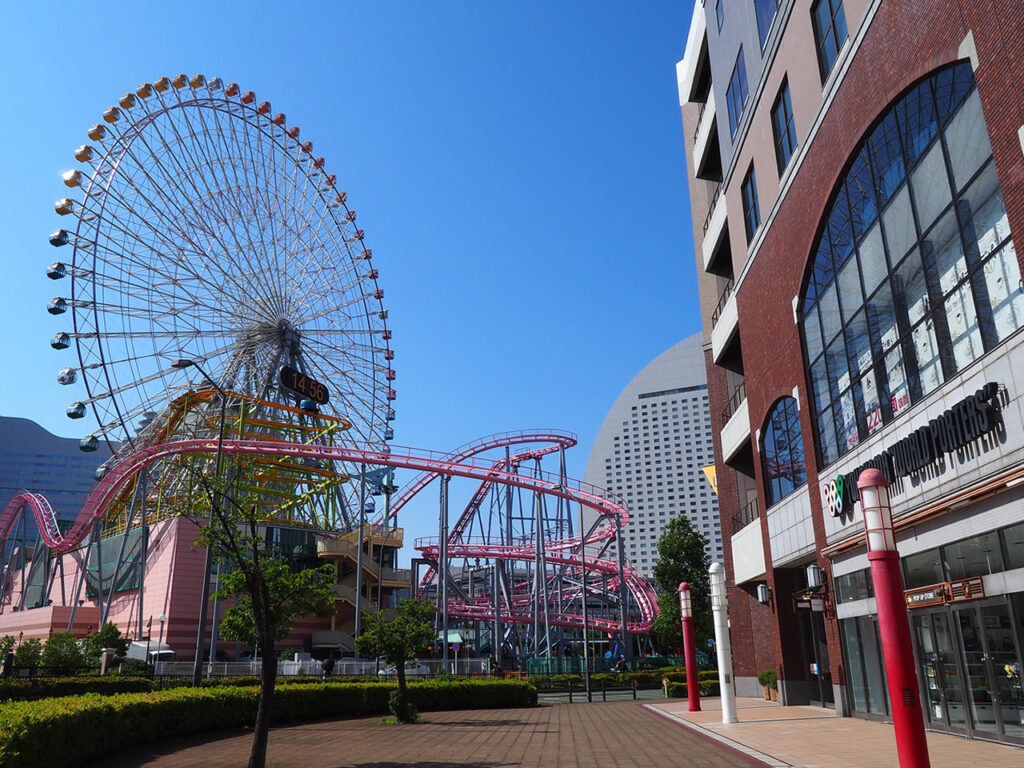 The ropeway station "Unga Park (Canal Park)" is near the amusement park called YOKOHAMA COSMOWORLD. The commercial facility in front is Yokohama World Porters, a shopping mall with various fast-food restaurants and casual cloth stores.
CUPNOODLES MUSEUM YOKOHAMA
There is a growing love for instant ramen around the world. The CUPNOODLES MUSEUM YOKOHAMA is a theme park-like museum where visitors can learn about the importance of invention and discovery through exhibits and experiences related to instant ramen. The most popular attraction in the facility is "My CUPNOODLES Factory," where you can order to create your own original cup noodle. Visitors can choose their favorite powdered soup and ingredients and have them filled into a cup they designed.
CUPNOODLES MUSEUM YOKOHAMA
https://www.cupnoodles-museum.jp/en/yokohama/
CUPNOODLES MUSEUM YOKOHAMA is a 5-minute walk from Unga Park Station on the ropeway. From the Unga Park Station, walk down the road along Yokohama Cosmo World while seeing the Ferris wheel on the left side, and you will see the brown building of the museum at the intersection.
YOKOHAMA HAMMERHEAD
After visiting the CUPNOODLES MUSEUM YOKOHAMA, take a stroll towards the waterfront, a new tourist spot that opened in 2019. This facility is a cruise ship terminal complex with a luxurious hotel and a shopping mall. Within the location are cafes serving Yokohama's unique sweets or special green tea and restaurants with views of the sea for lunch, making it a place to visit not only for the cruise ship terminal but also for shopping and dining. In front of the building is a depot for the Sea Bass, which offers a short cruise to Yokohama Station or the Akarenga Pier. To ride the SEA BASS, you can get a ticket at the ticket counter inside the HAMMERHEAD. Once you have your ticket, head to the boarding area and wait for the boat to arrive.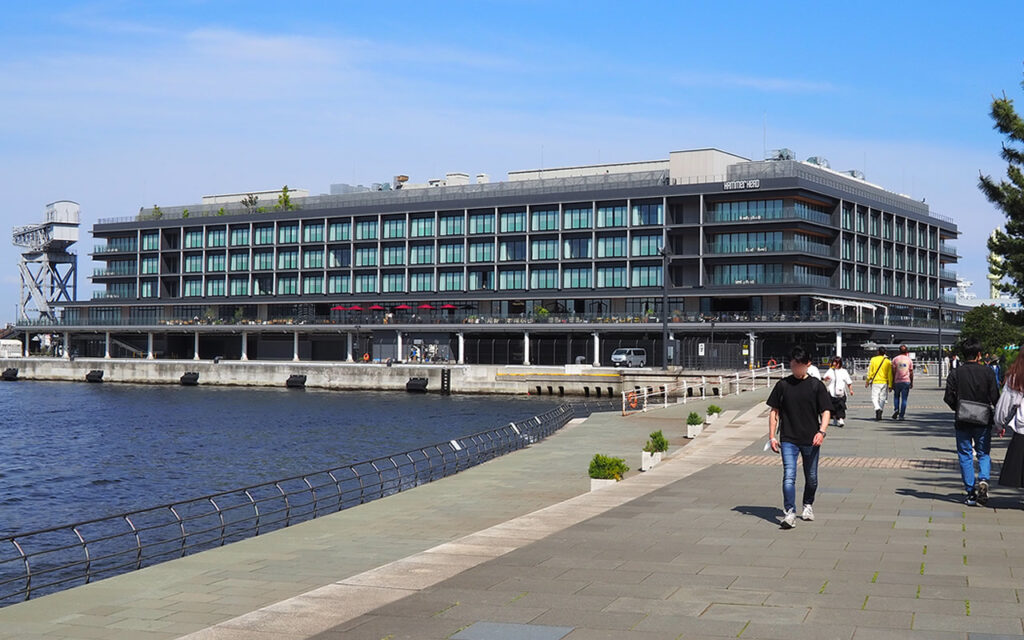 YOKOHAMA HAMMERHEAD
https://www.hammerhead.co.jp/
SEA BASS
https://www.yokohama-cruising.jp/
MARINE & WALK
MARINE & WALK is an outdoor shopping mall with stylish stores and cafes. The open seaside setting and lush garden space create a comfortable atmosphere, and many of the stores and cafes look inspired by LOHAS (Lifestyles of Health and Sustainability), giving the mall a relaxed feeling. The mall has restaurants that allow pets to enter, letting customers enjoy lunch leisurely with pets on their day off. MARINE & WALK is located between the Yokohama HAMMERHEAD and the Red Brick Warehouse (Aka-Renga Soko. It is about a 3-minute walk from the CUPNOODLES MUSEUM YOKOHAMA.

MARINE & WALK
https://www.marineandwalk.jp/
Yokohama Redbrick Warehouse
Red Brick Warehouse, or Aka-Renga Soko, is a cultural/commercial facility converted from a historic building into a shopping mall. While retaining the stately appearance of the building, it has become a mall with various stores, including imported goods stores and fancy restaurants, inside the modern renovated building. Red Brick Warehouse is always crowded as a popular place that represents Yokohama's attractions. The square in front of the warehouse buildings often holds fun events.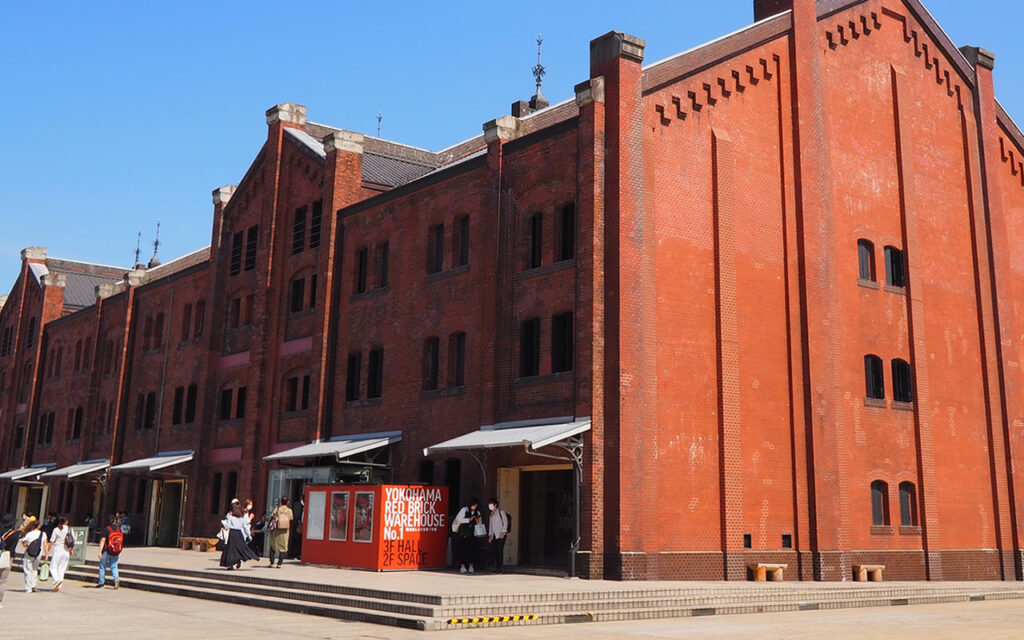 The Red Brick Warehouse (Aka-Renga Soko)
https://www.yokohama-akarenga.jp/
Walk further to Yamashita Park and explore more Yokohama attractions
Strolling along the coast's promenade will feel the refreshing sea breeze. After visiting the Red Brick Warehouse, why not take a walk toward Yamashita Park, another iconic location in Yokohama? After passing through Yamashita Park, you can walk down to Chinatown and Motomachi Shopping Street, about a 30-minute walk from the Red Brick Warehouse. The walk to and from Minato Mirai 21 area can be quite long, but you can easily shorten it by taking a bus or the subway (Minatomirai Line) and walking only one way back.
At Yamashita Park, people can sit and relax while enjoying the view of the bay. Yamashita Park is the venue for the World Triathlon Championships Series YOKOHAMA, held annually in Yokohama.
Time-limited exhibition GUNDAM FACTORY YOKOHAMA
While walking through Yamashita Park, you may see a giant statue of a robot at a pier in the distance, which is GUNDAM FACTORY YOKOHAMA, a Gundam-themed amusement facility. It will be open for a limited time until March 31, 2024, so be sure to stop by. GUNDAM FACTORY YOKOHAMA is about 7 minutes on foot from Motomachi-Chukagai Station. To learn more about the facility, admission fees, open hours, see the official website.
GUNDAM FACTORY YOKOHAMA
https://gundam-factory.net/en/
Travel Tips: More attractions in Yokohama
Yokohama's tourist attractions are not only within the Minato Mirai 21 area. Go further and experience some unique attractions in Yokohama.
Shin-Yokohama Ramen Museum
If you are a Japan Rail Pass holder planning to travel across Japan by Shinkansen, such as between Tokyo and Kyoto, consider stopping by the Shin-Yokohama Ramen Museum near Shin-Yokohama Station on the Tokaido Shinkansen Line. The Shin-Yokohama Ramen Museum is a "museum" of Ramen, where famous ramen restaurants in Japan gather and offer their Ramen in a nostalgic movie set-like dining space. To order ramen, visitors purchase a meal ticket from the ticket vending machines (multilingual machines) in front of each restaurant. The system is such that if you order a regular-size bowl of Ramen, you are allowed to order mini bowls so that you can taste several different Ramen from different restaurants. (No condition applied for junior high school students and younger) The restaurant is so popular, like an amusement attraction, it gets crowded at lunchtime on weekends. Visiting on weekdays is advisable. Shin-Yokohama Ramen Museum is a 5-minute walk from Shin-Yokohama Station. Being inside a museum requires an admission fee that will be 380 yen. For further information, see their official website.
Shin-Yokohama Ramen Museum
https://www.raumen.co.jp/english/
HAKKEIJIMA SEA PARADISE
Featuring a large-scale aquarium with over 700 different kinds of twelve thousand water creatures, HAKKEIJIMA SEA PARADISE is a theme park on a man-made island on the southern coast of Yokohama Bay. Themed with the sea, islands, and creatures there, it has been a complex of an aquarium, amusement park, restaurants, and a hotel, as exploring all will take more than a full day. The hotel has guest rooms with a view of sea animals living in the aquarium, which is popular among families with kids. The nearest station to HAKKEIJIMA SEA PARADISE is Hakkeijima Station on the Seaside Line. The Seaside Line is a short line along the seaside area, connected from Kanazawa-Hakkei Station (7-minute ride) on the Keihin Kyuko Line and Shin-Sugita Station (18-minute ride) on the JR Negishi Line to Hakkeijima Station.
HAKKEIJIMA SEA PARADISE
https://www.seaparadise.co.jp
Getting to Yokohama by train from Central Tokyo
From a hub station in central Tokyo, you can take a train in a consolidated/joint operation that runs to major stations in Yokohama. For example, taking a train on the JR Keihin-Tohoku Line connected with the Negishi Line enables you to reach Sakuragicho Station directly from Tokyo without transferring the train. However, be sure to check the destination when getting on the train. The Negishi Line trains basically depart from Yokohama Station, and only some trains on the JR Keihin-Tohoku Line are in that integrated operation.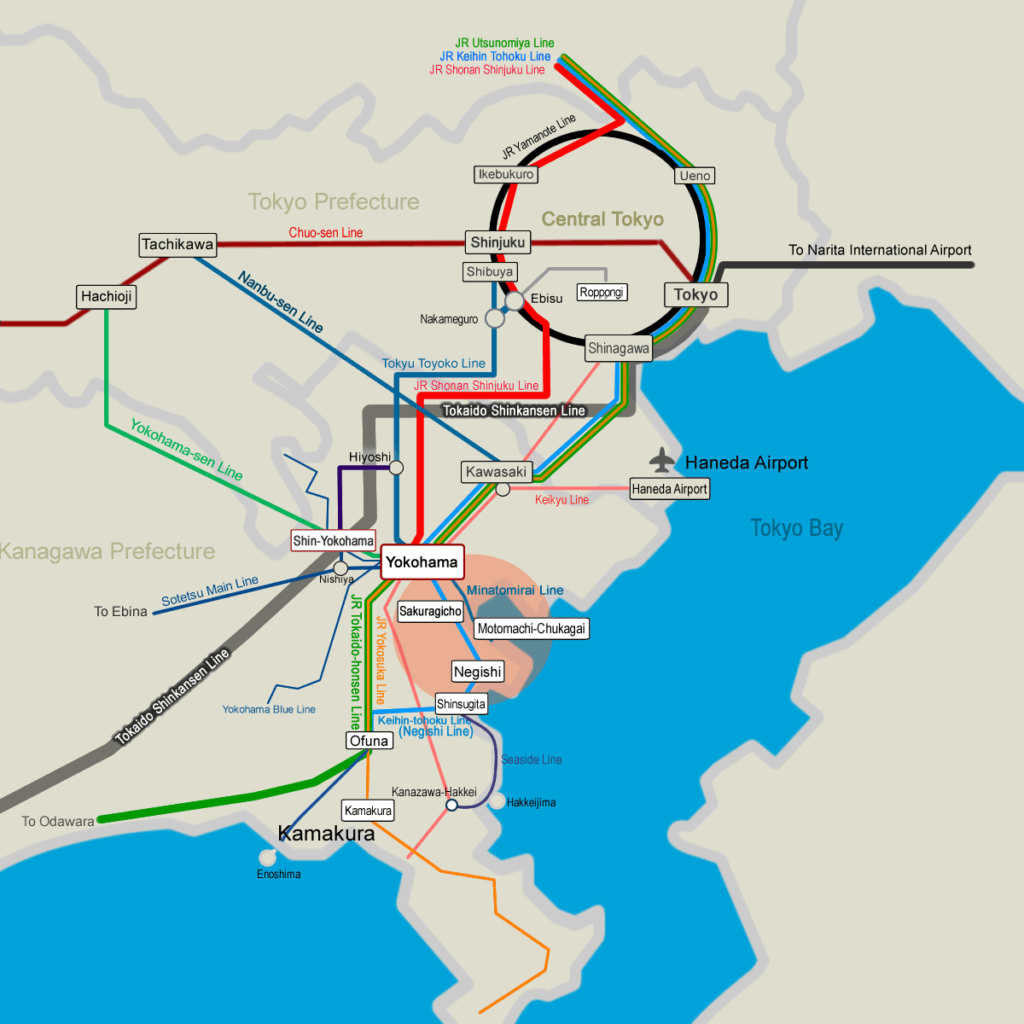 Travel time:
Tokyo sta. to Yokohama sta. by JR Yokosuka Line train bound for Zushi: 32 minutes
Tokyo sta. to Sakuragicho sta. by JR Keihin Tohoku Line train: 45 minutes
Shinjuku sta. to Yokohama sta. by JR Shonan Shinjuku Line train: 30 minutes
Yokohama sta. to Sakuragicho sta. by J R Keihin Tohoku (/Negishi) Line train: 3 minutes
Yokohama sta. to Motomachi-Chukagai sta. by Minatomirai Line train: 8 to10 minutes
Shin-Yokohama sta. to Yokohama sta.:
By Yokohama City Subway Line "Blue Line": 11 minutes
By JR Yokohama Line bound for Sakuragicho sta.: 13 minutes.
Related Information Sites
Yokohama Convention & Visitors Bureau
https://www.yokohamajapan.com/
Minatomirai Line
https://www.mm21railway.co.jp/global/english/
Yokohama Seaside Line
https://www.seasideline.co.jp/lang/en/