Summer in Tokyo is hot, indeed. Though it is only natural to want to walk all around the city on a trip, you should keep in mind the intense heat of the sun and the risk of heatstroke. If you want to make the most of your summer stay in Tokyo, narrow down your itinerary and focus on indoor destinations. So, here is one suggested area, Ueno, where you can discover Tokyo's top attractions without worrying about the unbearable heat. Ueno is also an excellent choice for your summer stay in Tokyo, and you will soon find why Ueno is an ideal spot for a summer getaway.
Outline: Ueno area
The Ueno is a tourist destination located slightly north of central Tokyo. The JR Ueno Station serves as the entrance to the area, which is focused on Ueno Park (Ueno Onshi Koen), famous for its cherry blossoms and hosts a range of Tokyo's notable attractions. Ueno Park is a lush green park spread out on a gently sloping hill and is one of Tokyo's centers of art and culture, with academic facilities such as art galleries, museums, a zoo, and music halls concentrated in and around the park. The area where Ueno Park is situated today is formerly the precincts of Toeizan Kan'eiji Temple, associated with the Tokugawa Shoguns. The landscape's foundation is a remnant of landscaping replicated from Kyoto during the early Edo period (17th century) by the monk Tenkai, a close associate of the shogun Tokugawa Ieyasu. The historic architecture associated with the shogun family is another part of the attractions as well as cultural facilities in Ueno.
What to see and do during summer in Ueno
During the summer, the recommended places to visit in Ueno are cultural facilities such as museums and art galleries. If you visit Ueno in the spring, the must-to-do is definitely Sakura viewing in the park, and it is also nice to stroll around the surrounding areas, Ameyoko shopping street, Yanaka Old district, or Kappabashi Kitchenware Town Street in Asakusa. However, in the hot season, it is better to focus only on attractions in Ueno Park for a relaxing, cool, indoor sightseeing experience. JR Ueno Station, the entrance to the Ueno district, has an exit (Park Exit) right up in front of Ueno Park, where you can walk under the shade of trees to avoid the sun while heading to the tourist facilities.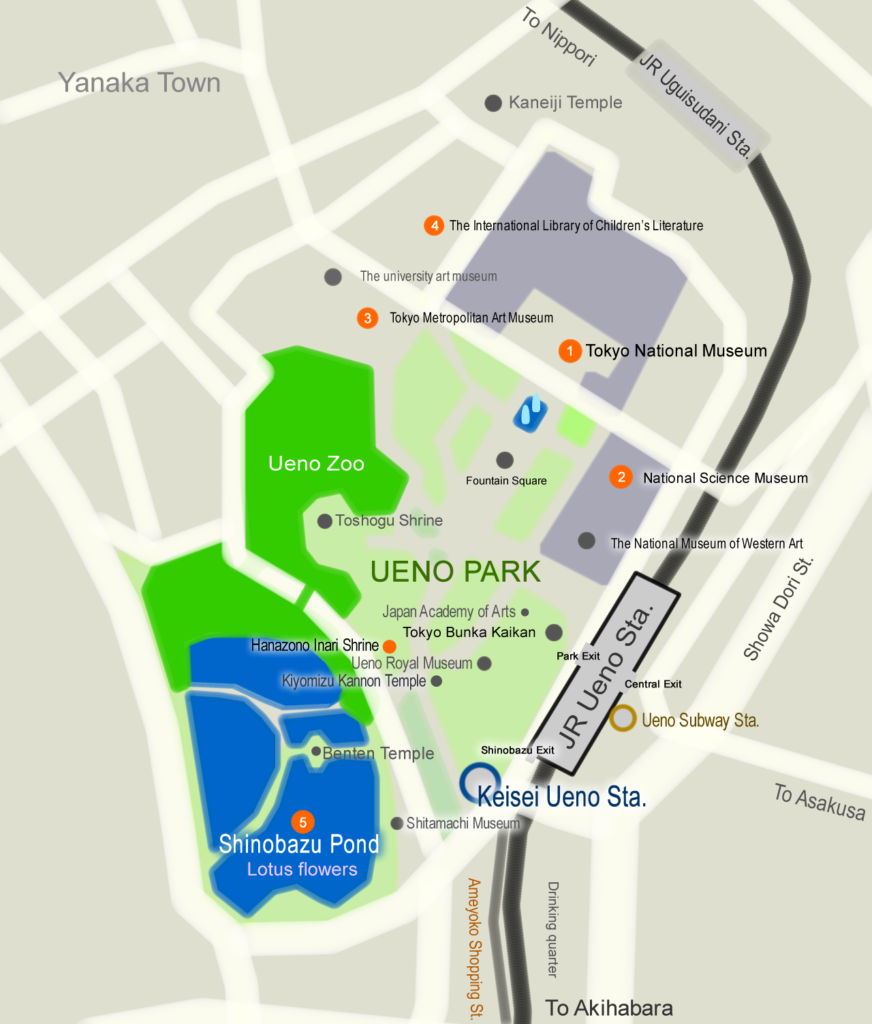 Best spots to visit during summer in Ueno
Tokyo National Museum
The Tokyo National Museum exhibits cultural properties from Japan and the Orient. The museum comprises three buildings for permanent exhibitions and other special exhibition halls. The main building, faced in front of the entrance, displays numerous arts and crafts, including Buddhist statues, Japanese swords, armor, and ukiyo-e woodblock prints. The unique collection of national treasures of Japan is a must-see. On weekdays, the permanent exhibition halls are rather less crowded, providing visitors with a more relaxed experience to view the exhibits. The museum store in the basement offers a wide selection of Japanese-style art goods. While you're at the museum, you can indulge in quality Japanese cuisine at a restaurant affiliated with a famous hotel and cafe. No need to go searching for a place to eat. They also offer delectable Japanese sweets for your enjoyment.
Tokyo National Museum
https://www.tnm.jp/?lang=en
National Museum of Nature and Science
The National Museum of Nature and Science boasts a vast collection of exhibits on natural history and the development of human science and technology. At the museum, visitors can explore two different pavilions – the Japan Pavilion and Earth Pavilion. The museum has a variety of exhibits that are enjoyable for adults and children, making it a perfect spot to spend a relaxing day.
Hachiko, the dog statue in front of Shibuya Station that was the model for the movie "Hachi," has been made into a taxidermy and is on display at the National Museum of Nature and Science. Hachiko can be found in the Japan Pavilion, a display room lined with other dogs.
National Museum of Nature and Science
https://www.kahaku.go.jp/english/
TOKYO METROPOLITAN ART MUSEUM
The art museum consists of several galleries that hold various exhibitions based on different themes throughout the year. Special exhibitions of famous artworks from domestic and international museums also provide many opportunities to encounter unexpected masterpieces. The museum's restaurant and café are available for all visitors and exude a stylish and relaxed atmosphere, perfectly fitting the art museum experience.
TOKYO METROPOLITAN ART MUSEUM
https://www.tobikan.jp/en/index.html
International Library of Children's Literature, National Diet Library
The National Diet Library owns the International Library of Children's Literature, which offers specialized library services for children's books in different languages worldwide, including Japan. This library is more suited for ex-pats in Japan who have small children rather than tourists. (It allows only browsing in the library. No book lending service is available.)
International Library of Children's Literature, National Diet Library
https://www.kodomo.go.jp/english/
Lotus flowers in Shinobazu Pond
During the mid-summer, Shinobazu Pond on the hillside of Ueno Park welcomes the blooming season of lotus flowers. If you want to see the blooming flowers, your best bet is to visit in the morning, before being not much hot. The petals will close around early noon. To get to the Shinobazu Pond from JR Ueno Station, go out of the nearest exit, "Shinobazu-guchi (Shinobazu Exit)." After viewing the lovely flowers, consider stopping by Hanazono Inari Shrine on your way to a museum in Ueno Park. This small shrine has rows of red torii gates.
Extra info about Ueno Park:
Some summer events, like outdoor film screenings and food festivals, often take place at the fountain square in the evening. Why not check out the square when you visit the park?
Travel Tips: Why Ueno in summer?
Easy access from Narita International Airport
To avoid traveling in the heat, taking a train directly from Narita International Airport to Ueno is a good option. Staying in Ueno eliminates the need for further travel by train with a heavy suitcase to a hotel in another area. The Keisei Skyliner train running between Ueno and Narita International Airport is convenient for international travelers to reach central Tokyo. The Keisei Ueno Station is located at the edge of Ueno Park, a little bit off from JR Ueno Station (Central Exit), where you can find many large and small hotels nearby.
Keisei Skyliner
https://www.keisei.co.jp/keisei/tetudou/skyliner/us/
Ueno Station provides convenient access to central Tokyo and the suburbs.
Ueno Station is one of the gateways in Tokyo, being a transportation hub combining railways and subway lines. JR Yamanote Line, convenient for traveling within central Tokyo, stops at JR Ueno Station. You can also take a train from JR Ueno Station that goes directly to tourist destinations like Atami and Odawara. If you are looking to explore central Tokyo's tourist spots, Ueno Subway Station is a convenient option. The Ginza subway line can take you to Asakusa and Ginza, while the Hibiya subway line can get you to Shibuya.
Many dining options inside and outside of Ueno Station
JR Ueno Station is a large station offering many excellent dining options to cater to your palate. You can enjoy most of the must-try Japanese dishes – sushi, ramen, and curry, at one of the stylish restaurants at the station. If you get tired of Japanese food, how about a familiar place like Hard Rock Cafe there? If you like experiencing Izakaya (casual Japanese bar), visit the dining and drinking quarter along Ameyoko shopping street. To get to the district, go out the Shinobazu Exit of JR Ueno station and cross the pedestrian crossing, and you will be at the entrance of the drinking quarter.
Take the Shinkansen to cool Tohoku and Hokkaido
The day after you had a nice evening and enjoyed Japanese dishes and a comfy stay at Ueno, why not head for a cool destination in northern Japan by bullet train? By taking the Hokkaido-Shinkansen from JR Ueno Station, you can reach Shin-Hakodate-Hokuto Station in Hokkaido directly. The train ride takes a while, about four hours, but it's worth it for comfortable travel on the air-conditioned train.