Car sharing is a car rental service on a membership basis, allowing the members to rent a car in a short time unit, such as 15 and 20 minutes, available 24 hours a day. Car-sharing is convenient in occasional need for use, for example, going to a shopping mall once in a while. However, there are things to keep in mind in sharing cars with other members. In some cases, you may think an ordinary car rental service is more useful. For more details, here you can learn the features of the sharing service, including good/bad points. The tips will help you to make the best use of it.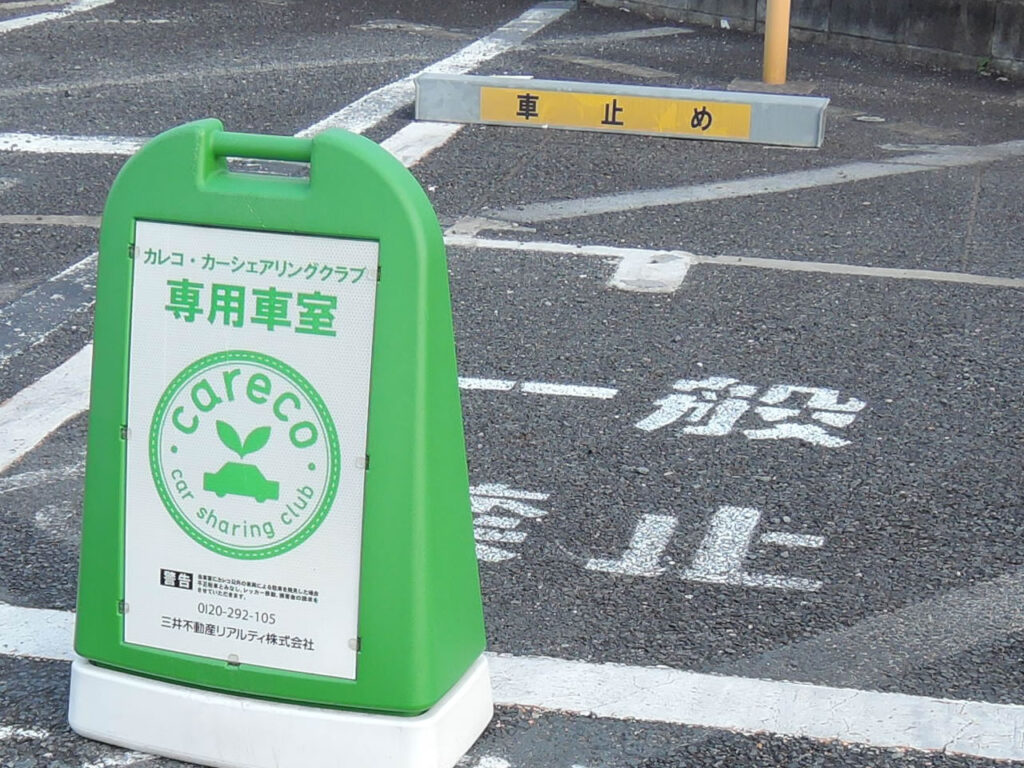 Car sharing in Tokyo
In Tokyo, car-sharing has been getting popular recently, and you can quite easily find and use the service in 23 special wards of Tokyo and the vicinity. Car-sharing services are mostly offered by major companies that run hourly parking lots or car rentals. Although some individuals provide their own cars for car sharing, people usually use the service through an intermediary of such companies to avoid contractual troubles such as in case of accidents.
Why is car-sharing convenient in Tokyo?
Thanks to well-developed public transport, it is easy to get around the central Tokyo area. People have easy access to subways, buses, and taxis in daily life, where people may find less need of a car. On the other hand, the average parking fee in the 23 wards of Tokyo ranges from 15000 to 50000 JP Yen per month, which can be more expensive than in other cities. Therefore, car-sharing is more economical than owning a car for those in Tokyo who rarely need a car. Also, Car-sharing could be the option for those wanting to avoid bothering things required to have a vehicle, such as getting a garage certificate, vehicle liability insurance, and vehicle tax payment. For non-Japanese residents temporally living in Tokyo, avoiding those complicated procedures will be the advantage of car-sharing.
Features of car-sharing
Before using car-sharing, learn about the features. Though car-sharing service is similar to car rentals, they are different from the system, including fee settings. In some cases, ordinary car rentals will be more economical than car-sharing, and owning a car will be more convenient for frequent car users.
Membership is required
Car-sharing is a service on a membership basis, registered as an individual or a corporate. The sign-up requires a Japanese driver's license* (digital copy), credit card, and mobile phone. The car-sharing companies offer their service with/without a monthly fee or allow members to choose between free or paid monthly plans, which you should check when you register. Some service companies may charge a setting-up fee, between 1000 to 2000 JP Yen.
Most car-sharing websites are only available in Japanese, but the browser's translation function will help non-Japanese speakers to understand them. If you are unsure about the registration process due to a language problem, you can ask someone who understands Japanese to assist you.
* Registration is not accepted with an international driver's license.
Booking is required
To use a car, you first make a reservation on the website/app of your service company. You can book a vehicle available on your desired date and time from the timetable there.
Short-time fee setting
The fee setting is based on a short time unit, usually 10 or 15 minutes. The fee may vary depending on the service company, but it is from 165 to 400 JP Yen per 15 minutes. Generally, the service companies that charge a monthly fee provide lower rates.
Car sharing is basically for a short use of a car, but it is available for a longer time, 12 hours, or even several days, usually on a package basis. The rate on a minute basis (e.g., 10 or 15 minutes) is generally applied for use up to 6 hours, and packages are for more than 6, 12, or 24 hour uses. The 6-hour package will cost from 4000 to 5000 JP Yen, and a 12-hour package will be between 5800 to 7000 JP Yen. Depending on the service company, it may charge an additional fee per 1km for package plans as it expects a long-distance drive, and the fee is from 16 to 22 JP Yen/km.
The gas is included in the fee
The cost of gas is included in the usage fee, which is the difference from car rentals. If you need to refuel at a gas station while using the shared car, you can use the gas card provided in that car for payment. The gas card can also be used to pay car wash fees.
The fees include car insurance premiums
A car insurance fee is included in the rate as well as the cost of gas. However, the insurance applies only to the registered members. For example, you, a member, rent a sharing car and let a friend drive the car, the insurance will not be applied if your friend causes a traffic accident. Considering traffic accidents, be sure to check the insurance coverage when you sign up.
Available 24 hours a day
You can book a car online and use it anytime, 24 hours a day. No need to go ask to an office.
The shared cars can be returned without filling up the gas
A good point of car-sharing. In the case of car rentals, the car must be returned full of gas, and the cost of gas is not included in the rental fee.
Return the car to the station where you rented it.
This system is another difference from ordinary car rentals. The car you shared from a station must be returned to the same station. It is not allowed to return cars to different stations even operated by the same service company.
In winter, some shared cars have snow tires.
In areas where road surfaces freeze in winter, cars with snow tires are available.
Note: Check the availability when booking as it is limited in some areas.
What to be careful of, disadvantages, and rules
Car-sharing can be a good choice alternative to owning a car. However, there are some disadvantages in sharing with other members, need to know beforehand. The members are always asked to follow the rules and remain manners to use sharing cars comfortably and pleasantly.
A Japanese driver's license is required.
An international driver's license is not accepted for membership registration.
You need to search for an available car.
The number of cars available at each station is limited, usually one or up to 5 vehicles. It will not be easy to find a vehicle at a desired time and station in some cases. To try booking a car right on the time and day you desire, book as early as possible. Also, being a member of several service companies of nearby stations will help increase your chance to book as you scheduled.
Some companies require a basic monthly charge.
Some service companies charge a monthly membership fee of about 1,000 JP Yen/month, which can be an unhappy expense for those who use a car less than once a month. However, the monthly fee will not be a disadvantage for frequent users because the cost can be allocated to rental fees, like a prepaid card charge that is good for only one month.
If you are not a frequent user, keep the monthly fee in mind and choose a plan without the fee, which some of the service companies have provided.
Return the car within the reserved time for the following user.
Members are required to set both start time and return time on booking and return the car within the time. Remember, a delay in returning by traffic jam or such will get the following user into trouble.
Shared cars are to be returned to the original station.
Car-sharing is suitable only for round travel. If you need a car for one-way, such as moving to a new city or going to the airport, your choice will be to hire a car from a car rental company, not sharing. Unlike car-sharing, car rentals allow you to rent a car in Tokyo and return it to a city in another region, e.g., Nagoya, by paying an extra fee. The point is to select a service based on the purpose of use, not always on cost comparison.
The vehicle may not be in good condition.
Shared cars are not always as clean as rental cars. Rental cars are cleaned up after each return, but shared cars are returned without cleaning. If the previous member has poorly used the car, you see trash left inside or dirty outside of the car. Though cleaning is done periodically, you may still book a dirty car unluckily. With etiquette in mind, users should not leave any trash and not spoil the food inside the vehicle, leading to more comfy and pleasant use for each member, including you.
No pets are allowed.
Currently, no car-sharing services allow pets to get in the car. (As of February 2021) Pets are not allowed even if they are in a cage. The reason for not pet allowed comes from consideration of allergic problems of other users and preventing smells and stains. It is a good point for those allergic to animals, but it can disadvantage pet lovers. Since car-sharing companies are considering allowing pets, it seems not long before you can use a shared car to drive with your pet. If you can't wait that much longer, there will be no choice but to own a car for the time being.
Smoking is prohibited. (including electronic cigarettes)
Some users dislike the smell of cigarettes. Smoking is not allowed inside the car, where it easily gets stinky with the scent. This rule can be both a good and bad point, depending on you smoke or not. If you are a smoker, consider taking breaks on a drive so that you can smoke outside of the car.
How to use car-sharing and the tips
Here you find how the car-sharing system works and some of the tips. Though car-sharing service companies offer different plans, they have a similar operation.
(For first-time use)
Search for a car-sharing station
To begin with, search for car-sharing companies that have a station in a nearby location. In that search, use a Japanese keyword phrase '近くのカーシェアリング (car-sharing near me).
(Tips)
If you find several nearby stations, consider using all of them instead of just one. Having more availability will make booking easier.
Sign up
You will need a Japanese driver's license, credit card, and mobile phone in the registration procedure.
(Tips)
Be sure to check whether it requires an initial fee and monthly fee, as well as rate card and insurance conditions. Remember, some service plans require no monthly payments. Since the usage fee is likely lower for plans with a monthly fee, it is advisable to register several companies to use different plans according to the situation. For example, you usually use the service with a monthly fee, and then you can keep monthly-fee free services as a second option just in case.
Registration screening
Registration is completed if you pass the screening.
(How it works)
Book a car
Search for a car on the service company's website/app. Select the date and start/return time of use, then make a reservation.
Car-sharing requires you to return cars within the time you booked. However, you may feel unhappy about having to book with some extra time considering traffic jams, etc. One idea is that you use a service company or a plan that charges based on the time of use, then book a little longer than you expect to use. For example, if you book a car for 15 or 30 minutes longer, you will reduce the chance of delay by unexpected hitches, causing trouble to the following user. If you return the car as scheduled, you can only pay for the time you used.
Go to the station and unlock the reserved car.
Use your membership card or mobile phone to unlock the car.
Start using the car
(After use)
Return the car to the original station.
Lock the car with your membership card /mobile phone as you used when unlocking.
Take your trash home for the next user and keep the car clean. Being considerate of other members, you will find car-sharing can be more comfortable.
Payment
Made by credit card or IC card (e.g., Suica, PASMO)
---
Information
Major car-sharing service companies
careco
https://www.careco.jp/
Times car タイムズカー
https://share.timescar.jp/