Prepaid Card PASMO & SUICA
Having a prepaid train card makes your transportation easy. It helps you not to bother buying a train ticket at the station, besides that, the train fare will be a little lower than its regular ticket price. Prepaid train cards can also be used for payments at some stores and restaurants, and you can make the best use of the card to receive special offers, including loyalty points.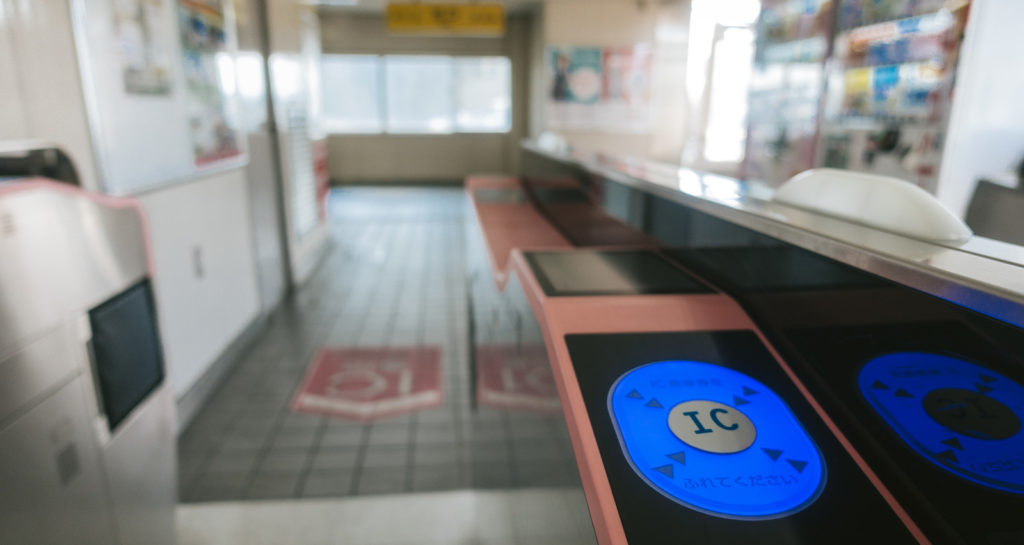 What's Train IC Card?
An IC card, or Integrated Circuit Card, is used as a prepaid type of e-money card, repeatedly rechargeable to use as a wallet. Train IC cards, or prepaid train cards, are the IC card issued by transport service companies (mostly major railway companies) so that the card enables customers to pay train/bus fares smoothly. The transport companies in each region of Japan operate the e-money system with different IC cards. The cards available in the greater Tokyo area are Suica and PASMO.
Suica is the prepaid train card issued by JR-East (East Japan Railway Company). While Suica is basically for their customers who use JR-trains, the card is also usable for payments of other company's public transport services – trains, subways, and even buses. PASMO is a similar card issued by PASMO Co., Ltd., a corporation of several railway and bus operating companies in Tokyo. PASMO is also usable for most public transport services, including JR trains.
Since the prepaid train card systems have been interoperable, both Suica and PASMO can be used across all regions* of Japan.
*May excludes some local trains and buses.
How to use PASMO
All prepaid train cards issued by different companies are basically similar, the same in usage. Here described is about PASMO, giving you an idea of how to use a prepaid train card and its features. PASMO is available in two types, an actual IC card PASMO Card and an App Mobile PASMO for mobile phones. Described here are based on the PASMO Card.
Start using a PASMO: Purchasing a card
The PASMO Card is sold at ticket vending machines and ticket offices in stations operated by the handing train companies. PASMO is not sold at JR stations. (JR-East sells only Suica.)
To get a card, you need to pay 500 JP Yen of a deposit* and charge some money to start using it.
*The deposit is refundable when you no longer need the card and return it at the office.
Types of PASMO cards
The PASMO Card comes in different types, such as the followings;
Regular PASMO: Otona-yo PASMO (means PASMO for adults)
This is the regular PASMO, comes in two types, selected from;
Blank PASMO card (Regular PASMO without your name printed)
Personalized PASMO card (Regular PASMO with your name printed)
The main difference between Blank and Personalized PASMO is whether it can be reissued or not. Personalized PASMO is reissued when you lose it as your personal information, such as your name and phone number, is registered on it. On the other hand, Blank PASMO is not reissued.
If you have a language problem to purchase from a vending machine*, visit the ticket office and ask the attendant and say "I'd like a PASMO card" in Japanese; "パスモカードをつくりたいのですが (PASMO card wo tsukuri-tai no desuga.)"
*At large train stations, there are some vending machines available in several languages.
Child PASMO
This PASMO card is issued for children aged up to 12 years old (6-grade school children). Children's fares are about half of the regular prices, and so is Child PASMO. Child PASMO is purchasable only at the office as it requires showing identification – a passport or a health insurance card, and filling out an application form.
Commuter Pass
A personalized PASMO with a reduction for commuters.
Train Commuter Pass


Train Commuter Pass is sold both at ticket vending machines and the office. The card has a cardholder's name and the ride section printed on. Students should purchase the pass at an office so that they can receive a student discount by showing their student ID card.

Bus Commuter Pass


Bus operating companies have an office at bus terminals where you can purchase this commuter pass. Similar to Regular PASMO, you can select from Blank or Personalized. Students should bring a student ID and purchase the personalized pass to receive a student discount.

Train + Bus Commuter Pass


Bus Commuter Pass can be added on the card of Train Commuter Pass.




If you are a commuter who uses both train and bus, get your train and bus commuter pass combined in one card so that you don't have to carry two different commuter passes.
PASMO PASSPORT(https://www.pasmo.co.jp/visitors/en/)
This PASMO is for visitors, can be used for travel and shopping. The price is 2000 JP Yen that includes 1500 JPY worth e-money and an issuing fee of 500 JP Yen. PASMO PASSPORT can be used as a prepaid card at stations and partner stores, where you can receive special offers by showing the card.
How to charge PASMO
Top up your PASMO when the balance is not much left while using it. The card is chargeable in a unit of 1000 JP Yen basis – 2000 or 3000 or 5000 JP Yen, etc. The balance left on the card must be 20000 JP Yen or lesser as its limitation.
Where to charge: Train stations, partner shops and convenience stores
You can charge your PASMO at ticket vending machines in train/subway stations, including JR stations. Mobile PASMO can also be topped up at some vending machines. Although you can charge your card on the bus, the amount of money to charge or such a condition varies depending on the bus service company. Detailed information on how to top up your PASMO can be found on the official website of PASMO.
Automatic topping up with a credit card: PASMO Auto Charge
PASMO has an optional service that allows you to top up your PASMO automatically, which works when you go through a ticket gate in a station. For example, if your PASMO has a balance left lower than 2000 JP Yen, it automatically tops up 3000 JP Yen when you touch the card on the ticket gate. The settlement for the charged money is made by credit card. This service is available both for PASMO Card and Mobile PASMO, requires registration with your credit card.
Note:
PASMO Auto Charge functions only at partner train/subway stations within Tokyo area. The automatic charge will not work at ticket gates in JR stations and local train stations outside of Tokyo.
Using PASMO at a train station
Enter the station
Touch your PASMO to the reader showing "IC" on the ticket gate. If you touch it properly, it beeps and opens the gate. In the case of improper touching, the gate doesn't open. On the ticket gate, it displays the balance left on your card.
* In JR stations, it displays only the balance on Suica cards, not on PASMO cards.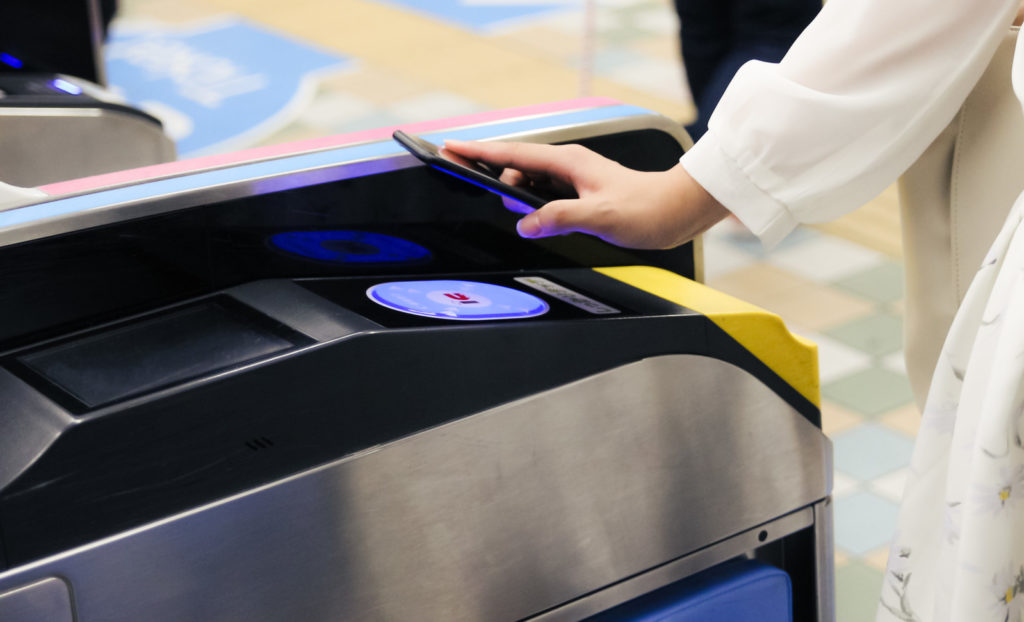 Getting out of the station
Touch your PASMO to the reader "IC" on the ticket gate, then the gate opens. The train fare will be shown on display at the ticket gate.
What if the balance is insufficient when getting out of the ticket gate?
If the reader on the ticket gate detects insufficient balance, it closes and makes a beep-beep sound. In that case, you go to a fare adjustment machine nearby and top up your card, then go out the ticket gate as usual.
Canceling after getting through a ticket gate at a wrong station
If you noticed that you got into the wrong station and need to get out the ticket gate again, ask someone at the nearby ticket wicket and let you outside of the station. Be sure and not use your PASMO to get back through the gate; otherwise, it makes error beeps and closes the gate. Also, do not stay long in the wrong station or need an entrance fee to pay.
Shopping with PASMO
At stores
The stores accepting payments by PASMO have the icon sticker at the entrance.
At the cashier, show your PASMO and say "I will pay by PASMO" in Japanese;
PASMO de shiharai-masu (PASMOでしはらいます。)
Then, you touch your card to the reader, and you are all done with the payment.
If the balance is insufficient, you can top up your PASMO then and there. In that case, tell the shop attendant how much you like to top up and pay the money. You touch the card to the reader again to make the payment.
Vending machines
There are vending machines accepting PASMO. On the vending machines, select an item you want to buy and press the button, then touch your PASMO to the reader on the machine.
PASMO vs. Suica
Comparing PASMO and Suica is always a topic for people in Tokyo. It is actually hard to decide which one to choose, indeed.
What we can say is that both the card has not much difference in usage. PASMO and Suica can be used for most public transport services in the same area. They have almost the same number of partner shops and restaurants accepting the card.
Mobile PASMO is available on Apple Pay and Android
When it comes to mobile types of IC cards, Mobile Suica used to be the only one that provides apps both for Apply Pay and Android. However, Mobile PASMO now also offers both the apps, where we cannot make a comparison anymore.
To decide which one to choose, PASMO or Suica, it seems people mostly consider how easily they can get loyalty points. PASMO and Suica come with point programs that have different features.
For example, Tokyo Metro offers a point program called ToKoPo, which is in partnership with PASMO. ToKoPo users can earn loyalty points every time they take the Tokyo Metro Line's subway with their PASMO. Similar to the program, Toei Transportation operates a program ToKoPo, and the registered users can get loyalty points every time they use the PASMO to take the subway/bus operated by Toei Transportation. The loyalty point is converted from 1 point to 1 JP Yen, allowed to use for paying fares or shopping.
Suica also comes with a similar program, JRE POINT. If you register your Suica on the website, you can earn loyalty points every time you use your Suica to take JR trains or do shopping at their partner stores in the JR stations, etc.
Considering these loyalty programs will help you find which card is better to earn more points, based on your transportation. If you take JR trains often, a Suica with JRE POINT will be suitable for you. If you take subways often, PASMO with MeTopo or ToKoPo will be your choice. If you often take both JR and Subways, having two of the cards will also be another option. In any case, only the problem is that those loyalty programs are provided in Japanese that may make non-Japanese speakers challenging to go through with the registration procedure.
One extra info here. Both PASMO and Suica holders can automatically get points "Tokuten Bus Ticket" every time they use the Toei bus service. For example, if you take the Toei bus 5 times, you can earn points worth 100 JP Yen, which is deducted from the fare when you take a bus the next time (6th time.) If you use the Toei bus often, it is worth having one of the prepaid train cards.
Reference: Related web sites
PASMO
https://www.pasmo.co.jp/
All about PASMO(英語)
https://www.pasmo.co.jp/visitors/en/normalpasmo/
Suica
https://www.jreast.co.jp/suica/
JRE POINT (Japanese)
https://www.jrepoint.jp/
MeToPo (Japanese)
http://www.metpo.jp/
ToKoPo (Japanese)
https://www.kotsu.metro.tokyo.jp/tokopo/