The Chichibu area in the suburb of Tokyo is a travel destination that abounds with attractions provided in the mountains, at the river, and at temples and shrines, which will be good places to visit on a trip to experience something Japanese. While most tourists visit Chichibu to go sightseeing at famous spots such as Nagatoro, if you go to Chichibu on vacation for refreshment, you may wish to explore deeper into the mountains. In addition to hiking and hot springs, you can experience various adventurous activities, including bungee jumping and zip-lining.
Scenic places in Chichibu: Mitsumine and Ogano area
Chichibu is a mountainous region near Tokyo in the western part of Saitama Prefecture. The tourist destination we call "Chichibu" lies in the valley and the surrounding mountains. You can access the area from the gateway station Seibu-Chichibu Station on the Seibu Railway, about 77km from Ikebukuro in Tokyo, or 80 minutes by limited express train.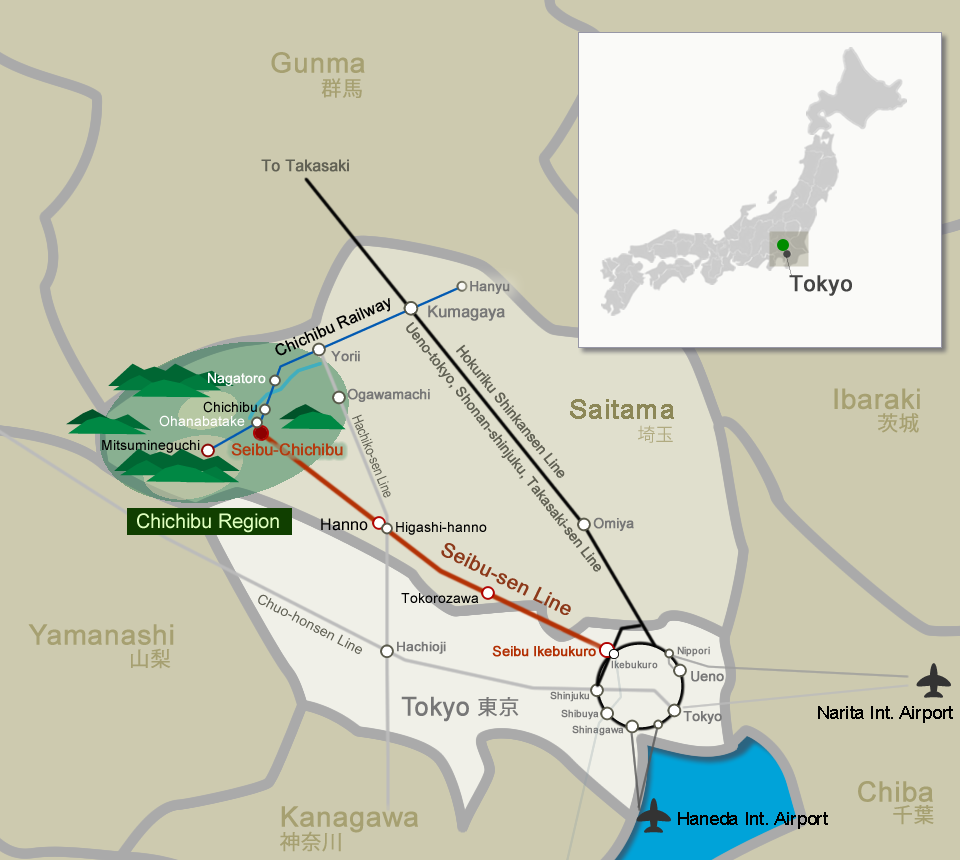 All photos: 🄫Saitama Prefecture Products & Tourism Association
Reproduction / Reprint prohibited
The areas to enjoy outdoor activities in Chichibu are mostly in Mt. Mitsumine and Ogano areas. These areas are in the mountains, somewhat far from the train station, but bus services are available to provide easy access for individual travelers. Since Chichibu is a travel destination welcoming visitors from Tokyo, the area also offers a variety of lodging facilities, such as Japanese inns and campgrounds, while it retains a tranquil and natural environment. Hot spring facilities are also scattered in the area, making it an ideal place to stay for a retreat and refresh at leisure facilities.
Mt. Mitsumine Area Attractions
Mitsumine-jinja Shrine (三峯神社)
Mitsumine-jinja, the shrine known as one of the most famous tourist spots in Chichibu, is enshrined at 1102m in the mountain of Mt. Mitsumine (Mitsuminesan 三峰山). Since ancient times, the mountains of Chichibu have been a training place for Shugendo (mountain asceticism), where the Mitsumine-jinja was built originally for mountain worship, and the surrounding area later became a travel destination for hiking and sightseeing. Mitsumine-guchi today still has many visitors, especially young people who like to visit the shrine as a spiritual place. The bus for Mitsumine-jinja runs from Seibu-Chichibu Station (75 min.) and by way of Mitsumine-guchi Station (50 min). From the Mitsumine-jinja bus stop, it is an 8-min walk to the shrine site.
Mt. Mitsumine (三峰山)
Mt. Mitsumine, where Mitsumine-jinja is enshrined, is popular among hikers because of its accessibility from Tokyo. During the best season in spring and autumn, many people head to Mt. Mitsumine to enjoy nature walking. Mt. Mitsumine has several hiking trails that start from Mitsumine-jinja. The trails include routes for beginners with a 2-1/2 hour to 3-hour hike (excluding rest time). A few things to remember are that some parts of the paths are slippery. Also, bears have been spotted there. In winter, the trails are closed from December to March due to snowfalls and freezing. Chichibu is so close to Tokyo that holidaymakers tend to go hiking there just for a change, but taking a hike on a whim is risky. The mountains in Chichibu are deeply layered, where hikers can be in serious trouble once they get lost on the way back. Preparing a hiking map and making up a well-planned schedule beforehand is advisable.
Dammed lakes and camping sites
Mt. Mitsumine area has three dammed lakes., and the one called Lake Chichibu (Futase Dam 二瀬ダム) is reachable by bus on the way to Mitsumine-jinja. There are campgrounds, cabins, and hot spring facilities near the lake, so you can combine your shrine visit and hike with camping or Onsen bathing. If you go there in winter, visit "Misotsuchi Icicles (三十槌の氷柱)," a large icy wall created by spring water from rocks. Viewing the large wall of icicles is a seasonal attraction in Chichibu, known for its severely cold winter. Chichibu has three icicle viewing spots, and Misotsuchi Icicles is one of those located near a camping site, about 5 minutes by walking from the bus stop Misotsuchi.
Adventurous Activities
Chichibu is dotted with unique leisure facilities. One of the most featured facilities is the CHICHIBU GEOGRAVITY PARK, offering extreme outdoor activities, bungee jumping, zip-lining, and more. CHICHIBU GEOGRAVITY PARK is within walking distance from Mitsumine-guchi Station. The activities require prior booking that you can make on their website, provided in English for non-Japanese-speaking customers.
Ogano area and the attractions
The Ogano area described here comprises Ogano town (Oganomachi 小鹿野町) and the surrounding mountains spread west of Seibu-Chichibu Station. Lies in a natural setting, the Ogano area has been a geopark with attractions scattered around, outdoor leisure facilities, tourist farms, and flower gardens. Ogano town in the Ogano area is a historic town nestled in the mountains, with a history of over 1000 years. Ogano town is promoting tourism as a town of climbing known for its steep mountain, famous among skilled rock climbers, and the town operates a large bouldering facility called "Climbing Park Shin-i-kan (クライミングパーク神怡舘).
Ogano town (小鹿野町)
The historic Ogano town used to be a post town on Chichibu Road. In the era of mid. 19th to 20th centuries, the town was so prosperous with its sericultural industry that you can still see the traces retained in the old streets and traditional festivals held throughout the year. In Ogano town, there are long-established Japanese inns in classical style, which attracts foreign tourists. Ogano town also has unique Japanese inns; an inn where Go (game) fans gather, an Onsen ryokan offering guests to wear colorful yukata dress (kimono-like clothes), and a hot-spring inn characterized in Sumo wrestling. From Seibu-Chichibu Station to central Ogano town, buses run periodically, about a 40-min ride heading to a place in a peaceful, quiet environment.
Chichibu Muse Park (秩父ミューズパーク)
A park with various leisure facilities for both kids and adults. In the spacious park grounds, visitors can experience exciting activities such as adventure playgrounds, quad vehicle riding, and kart racing. This park also has nature gardens, seasonal flower fields, and a line of ginkgo trees, all good for strolling around to enjoy the view in relaxation. The Chichibu Muse Park is reachable by a loop bus "Gururin-Go" you can take both from Seibu-Chichibu Station and Chichibu Station, which is about a 20-minute ride.
Getting to Mt. Mitsumine and Ogano areas
If you plan to travel by train from Tokyo, the easiest and quickest way is to take the limited express "Raview" from Seibu Ikebukuro Station in Tokyo and head to Seibu-Chichibu Station. For detailed information, refer to the article Chichibu Sightseeing Part 1.
https://living.rise-corp.tokyo/day-trip-to-nagatoro/#toc12
Getting to Mt. Mitsumine area
To get to Chichibu from Tokyo by public transportation, you first go to the gateway station Seibu-Chichibu Station on the Seibu-Chichibu Line or go to Mitsumine-guchi Station on the Chichibu Railway. From both the train station, you can take a bus to get to your destination. The bus bound for Mt. Mitsumine/Mitsumine-jinja is Mitsumine-jinja Iki (Route M). The bus departs from the bus terminal at Seibu-Chichibu Station and runs via the bus stop at Mitsumine-guchi Station. During the spring and autumn holidays, both the roads and buses will be crowded with hikers, so it is suggested that you schedule a plan to avoid busy times, for example, staying overnight at an inn nearby and heading to the mountain early in the morning.
Getting to Ogano area
To get to the Ogano area, you can take a bus (Route G) that departs from the bus terminal at Seibu-Chichibu Station. The bus runs toward Ogano via the bus stop at Chichibu Station on the Chichibu Railway. The loop bus (Route P) for Chichibu Muse Park is available from both Seibu-Chichibu and Chichibu stations.
Extra info: Getting around by car
Traffic congestion often occurs around noon on the road to Mitsumine-jinja's parking lot. It is suggested that you reach the parking lot before 11:00 a.m. at the latest, especially if you go there on a weekend or holiday.
Making a U-turn on the one-lane road to the shrine's parking lot is not allowed. During specific days such as New Year's Day, the day a festival is held, and weekends/holidays in a hiking season, the road to the shrine will heavily be congested with cars waiting to park in a long line over kilometers.
In winter, snow tires are essential to prepare for icy roads.
Related information
Chichibu Tourist Association
http://www.chichibuji.gr.jp/
Saitama Tourist Information Bureau
https://en.chocotabi-saitama.jp/
Chichibu Visitor's Guide
https://navi.city.chichibu.lg.jp/
Mitsumine area map (In Japanese, PDF)
https://navi.city.chichibu.lg.jp/wp/wp-content/themes/chichibunavi/images/walk/walk_map_mitsumine.pdf
Chichibu Mitsumine-jinja Shrine
https://www.mitsuminejinja.or.jp/
CHICHIBU GEO GRAVITY PARK
https://gravitypark.jp/?lang=en
OGANO-RYOKAMI tourism association
https://kanko-ogano.jp/
Chichibu Geopark
https://www.chichibu-geo.com/en/
Chichibu Railway
https://www.chichibu-railway.co.jp/en/
SEIBU Railway Co.,LTD
https://www.seiburailway.jp/railways/tourist/english/