Kamakura, an ancient capital with over 800 years of history, is a popular sightseeing destination in eastern Japan. Kamakura offers a variety of attractions, from ancient temples steeped in samurai culture to exclusive restaurants and trendy sweets shops. Remember to take some time to appreciate the beauty of seasonal blooms and falling leaves when you are in Kamakura. It will be a way to fully experience the historic town's natural wonders and charm.
What is Kamakura like?
Kamakura, located in the south of Tokyo, is an ancient city with a rich history where the Kamakura Shogunate (Bakufu,) the government of the samurai, was established at the end of the 12th century. With numerous old buildings and historic sites remaining, Kamakura is a popular tourist destination in eastern Japan. The Kamakura Period lasted 140 years with Kamakura as its capital. Kamakura was a capital based on samurai culture, and its expression is characterized by the spirit of simplicity, fortitude, and minimalism, which differs from the glamorous nobility culture in Kyoto. The atmosphere, which is reminiscent of "Zen" favored by samurai families, is one of the attractions of Kamakura.
Minamoto-no Yoritomo, the shogun of Kamakura, set the capital in Kamakura due to its natural fortress-like surroundings, enclosed by rugged mountains and facing the water. In the late 19th century, green mountains and ocean views attracted renowned artists and authors who sought to have villas in a tranquil, natural setting. Nowadays, many weekenders visit Kamakura for sightseeing or activities like surfing at the beach. This easy access by train has made Kamakura a popular tourist destination for all ages.
Head to Kamakura by train and explore the attractions on foot
The central area of Kamakura is like a citadel, protected by surrounding mountains. Due to the limited number of major roads, traffic congestion is common in this area. The streets are narrow and maze-like, with some through the mountains to reach sightseeing spots. Therefore, taking a train instead of driving is recommended when visiting Kamakura. You can start exploring on foot from Kita-Kamakura or Kamakura Station, both train stations reachable from Tokyo within 1 hour or so. Walking around the town can be a great way to experience its charm and beauty. You will enjoy a 10km (6.21 mi) long walk, taking in the sights and sounds of Kamakura's rich history and culture.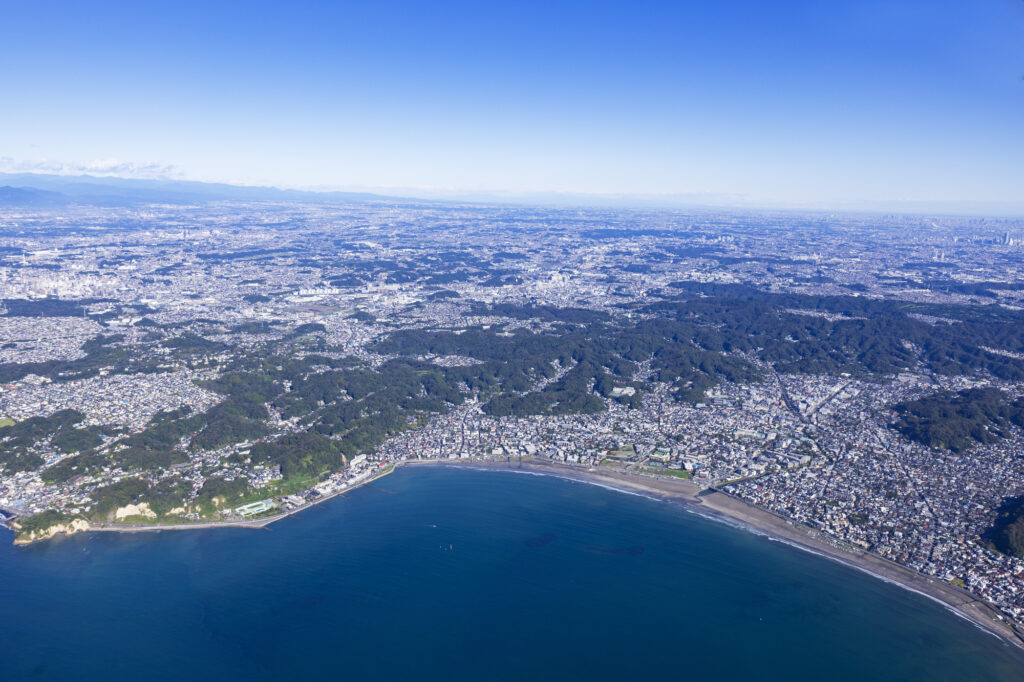 The ancient capital of Kamakura, the central area formed like letter V upside down.
Tips for Kamakura travel
The historic district of Kamakura is centered around Tsurugaoka Hachimangu Shrine, with over 50 nearby temples accessible by a 10 to 30-minute walk. It is suggested that you choose places to visit based on your interests since it is difficult to visit all the spots in a day.
For those interested in the historical temples of Kamakura, starting from Kita-Kamakura Station and taking a leisurely walk around the area's old temples and shrines will be a good option. Afterward, you can conveniently make your way back by taking a train from Kamakura Station. If you want to visit only popular touristy places, take a stroll, or unwind at the beach, it is best to start your travel from Kamakura Station.
As you plan your visit to Kamakura, it's essential to keep in mind that many of the temples are located in the mountains and can only be reached on foot. Though the paths may seem easy on a map, they can be steep and winding, so take your time and be ready for a bit of a trek. If you're exploring the roads around Genjiyama Park in the southern part of Kita-Kamakura Station, remember that some of them may be part of a hiking trail. While wandering through the narrow, maze-like roads in town, it's better to avoid taking shortcuts as they can easily lead you astray and cause frustration. And as you make your way through residential areas, please be respectful of your surroundings and keep noise to a minimum to not disturb the locals.
Must-see places in Kamakura
The following image map will help you find some of Kamakura's most famous temples and shrines. The marks in red are popular tourist spots, the highlights of Kamakura travel.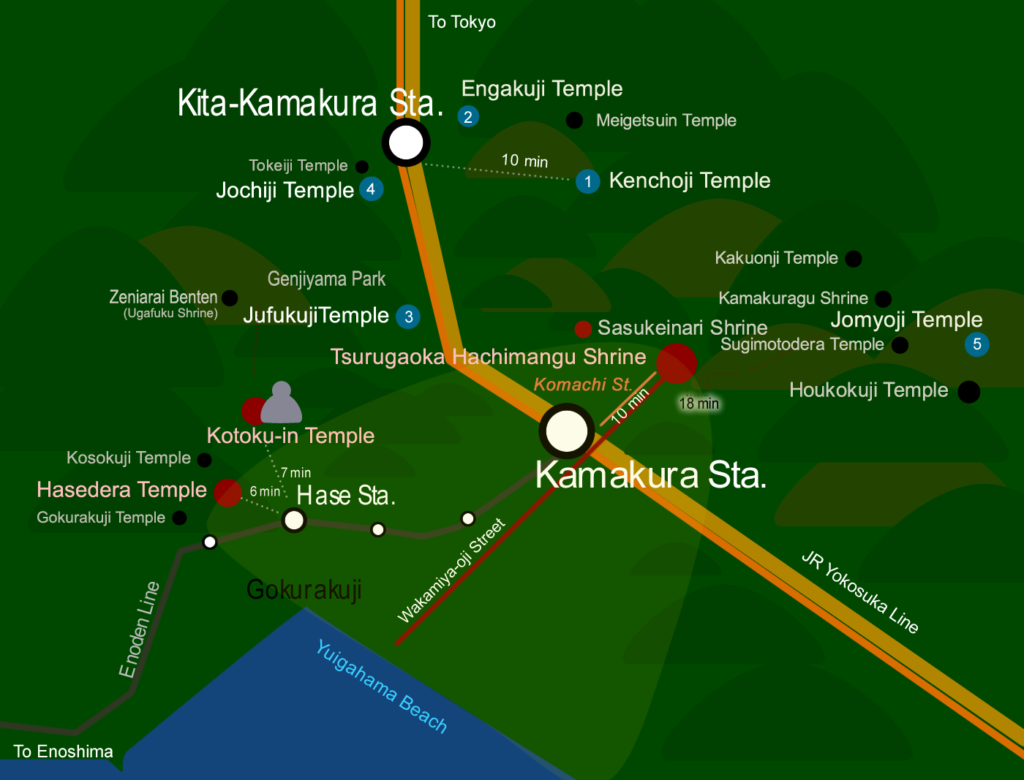 Tsurugaoka Hachimangu Shrine 鶴岡八幡宮
This shrine represents the ancient capital of Kamakura. Tsurugaoka Hachimangu enshrines the guardian deity worshipped by samurais. Minamoto-no Yoritomo, the shogun who set the Kamakura government, emphasized this shrine as the capital's center. It's quite common for junior high and high school students in Tokyo to visit this shrine as part of their school excursions. They come to learn about and feel connected to the Kamakura Shogunate's rich history.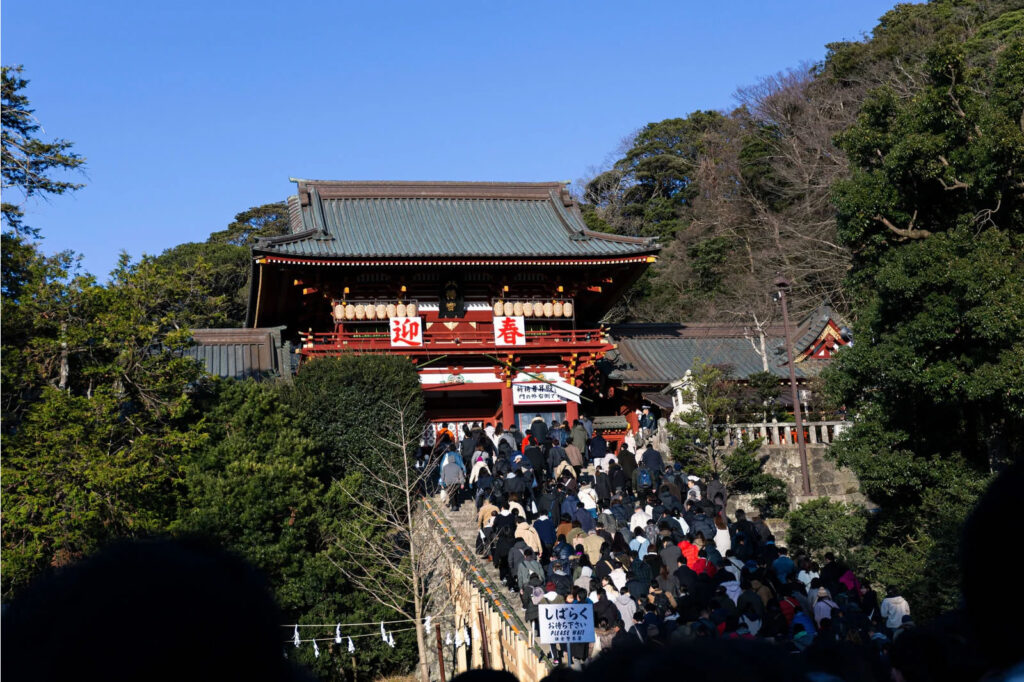 Tsurugaoka Hachimangu Shrine hosts various seasonal events that attract many visitors.
Wakamiya O-ji Street 若宮大路
With three large Torii gates, this 1.8km-long approach leads straighten to Tsurugaoka Hachimangu Shrine. The street includes Dankazura 段葛, a walkway lined with cherry trees and known as a popular cherry blossom viewing spot. Dankazura was formerly a pathway for noble people who visited Tsurugaoka Hachimangu Shrine. The walkway gradually gets narrower to make it look longer than its actual length. This perspective technique was used to enhance the prestige of the Tsurugaoka Hachimangu shrine and demonstrate its significance to the shogun of Kamakura.
Getting to Tsurugaoka Hachimangu Shrine
A 10-minute walk from Kamakura Station (East Exit.) to Tsurugaoka Hachimangu Shrine. The Komachi Street 小町通りbetween there has various stores and restaurants, including fancy cafes, will be a good place to stop by on the way there or back.
Tsurugaoka Hachimangu Shrine
https://www.hachimangu.or.jp/en/
Great Buddha in Kotoku-in Temple 高徳院の大仏
This bronze statue of Buddha, designated as a national treasure of Japan, was created in 1243. The large statue was made through donations during the Kamakura Era. The statue is about 11.39m (37.37 ft) high. The Great Buddha is in a hunched posture so that visitors can make eye contact with him. This design technique, similar to the perspective method, was used considering how people's viewpoints influence appearance. This particular technique was often introduced in art pieces produced during the Kamakura Era.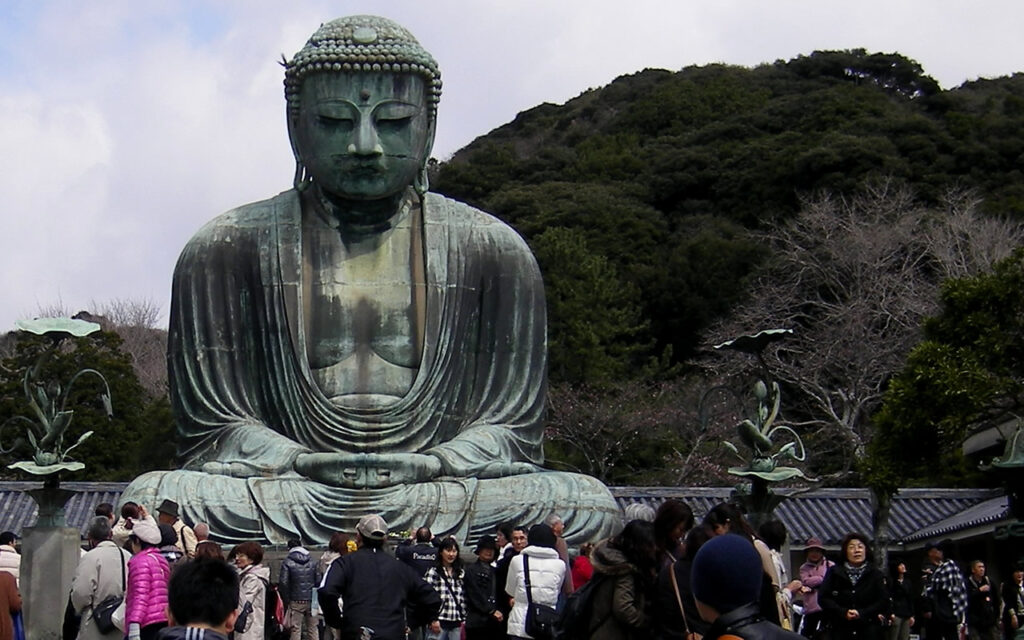 Getting to Kotoku-in Temple
The easiest way to reach the temple is by taking the Enoden train from Kamakura Station and getting off at Hase Station. From there, it's just a 7-minute walk to reach the temple. However, the Enoden train runs infrequently on a single line, which tends to be crowded with commuters and tourists. If you wish to avoid the crowd, you can take a walk from Kamakura Station, which would take around 35 minutes to reach Kotoku-in. Along the way, you can follow the road that runs parallel to the Enoden Line to avoid getting lost while heading towards the temple.
Kotoku-in Temple
https://www.kotoku-in.jp/en/
Hasedera Temple 長谷寺
An ancient temple on a hill at the coastline, with scenic views of the town and the sea of Kamakura. Hasedera has one of the most giant wooden statues of Buddha in Japan. On the large ground of the temple, there is a cave with stone Buddhas.
Getting to Hasedera Temple
A 6-minute walk from Hase Station on the Enoden line. Go uphill ahead to the temple. Hasedera Temple is located in an easy-to-visit location along with Kotoku-in Temple.
Hasedera Temple
https://www.hasedera.jp/en/
Sasukeinari Shrine 佐助稲荷神社
It says that the Sasukeinari encouraged Minamoto-no Yoritomo to be the shogun of Kamakura. Sasukeinari Shrine, a small but highly respected shrine, is believed to bring good fortune and prosperity. The approach leading to the shrine up into the mountain has many red Tori gates. Numerous white fox dolls are dedicated by believers at the premises.
Getting to Sasukeinari Shrine
A 15-minute walk from Kamakura Station (West Exit.) As you make your way towards the shrine, please be mindful of the residential area and walk quietly.
Sasukeinari Shrine
https://sasukeinari.jp/
Kamakura Gozan (The five great Rinzai temples of Kamakura)
The 5th-ranked upscale temples of the Rinzai school in Kamakura are collectively called Kamakura Gozan (鎌倉五山). Since the Rinzai school belongs to the Zen sect, these five temples have a classical atmosphere of simplicity, dignity, and calmness. The temples of Kamakura Gozan are favored to visit by people interested in the rich history of Kamakura.
The map displays Kamakura Gozan's five temples, marked in blue with the ranking.
No. 1: Kenchoji Temple 建長寺
https://www.kenchoji.com/
A historic temple with a large grand spread among the mountains. Going up the hill behind the temple, you will see statues of Tengu monsters awaiting. The view of Kamakura town and the ocean up there is a must-see. Kenchoji Temple is 15 minutes from Kita-Kamakura Station.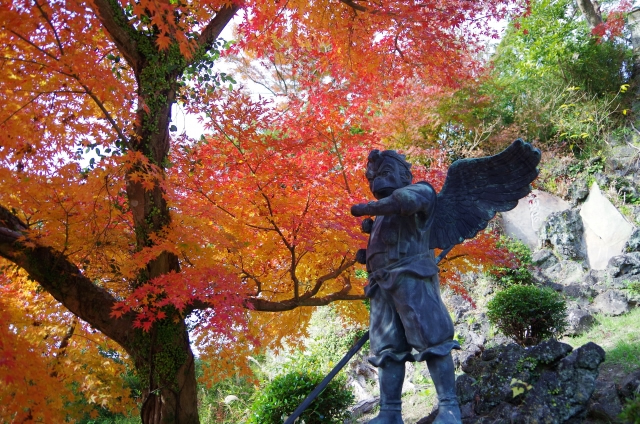 No. 2: Engakuji Temple 円覚寺
https://www.engakuji.or.jp/en/
Within a one-minute walk from Kita-Kamakura Station, this temple is one of the most important temples in the Kamakura. More people who visit the Kamakura Gozan temples start their exploration from Kita-Kamakura Station to Engakuji Temple and then Kenchoji Temple.
No. 3: Jufukuji Temple 寿福寺
This temple is known for its serene ambiance that truly embodies the essence of Kamakura. The stone approach goes straight among trees and shrubs, which is an attraction of this temple. Visitors are not allowed to enter the temple but are allowed to walk around until the middle gate. Access: 10-min walk from Kita-Kamakura Station.
No. 4: Jochiji Temple 浄智寺
https://jochiji.com/en/en.html
Amidst the lush greenery, this temple exudes a serene and emotional ambiance as you step on the mossy approach. During autumn, the temple is adorned with stunning fall foliage. Renowned film producer Yasujiro Ozu used to reside in the area. Access: 8 min walk from Kita-Kamakura Station.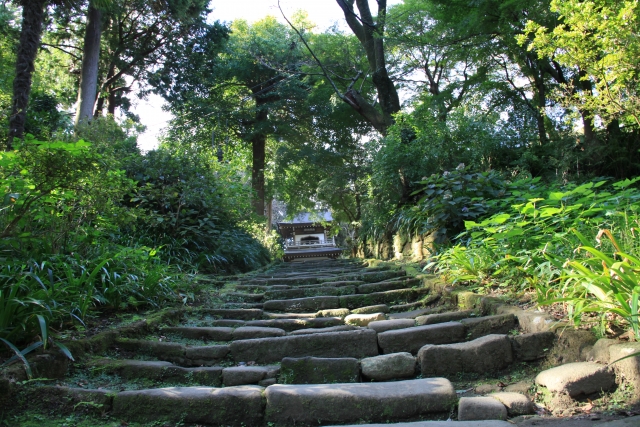 No. 5: Jomyoji Temple 浄妙寺
Jomyoji Temple is located a little away from central Kamakura. The temple premise includes a Japanese stone garden and an English-style garden terrace.
Access: About 15 minutes by bus from Kamakura Station (East Exit.)
Get off at Jo-myo-ji (浄明寺) bus stop, and a minute's walk will take you to Jomyoji Temple. If you walk from Kamakura Station, it will be 35 or 40 minutes. Jomyoji Temple is located near Houkokuji Temple (報国寺,) renowned for its bamboo garden.
Access from Tokyo to Kamakura by train
From Tokyo Station
Tokyo Sta. (JR Yokosuka Line bound for Zushi: 1 hr) – > Kita-Kamakura Sta. (3 mins) -> Kamakura Sta.
OR
Tokyo Sta. (JR Tokaido-honsen Line: 37 mins) – > Tozuka Sta. -> (JR Yokosuka Line bound for Zushi: 15 mins) -> Kita-Kamakura Sta. (3 mins) -> Kamakura Sta.
From Shinjuku Station
JR Shinjuku Sta. (Shonan-shinjuku Line bound for Zushi: 55 mins) -> Kita-Kamakura Sta. (3 mins) -> Kamakura Sta.
OR
JR Shinjuku Sta. (Shonan-shinjuku Line bound for Hiratsuka: 40 mins) -> Tozuka Sta. (JR Yokosuka Line bound for Zushi: 15 mins) -> Kita-Kamakura Sta. (3 mins) -> Kamakura Sta.
Related information
VISIT KAMAKURA by Kamakura City Tourist Association
https://www.city.kamakura.kanagawa.jp/visitkamakura/en/